As a concert pianist who has performed at venues around the world since she was 9 years old, University of North Texas doctoral student Anna Bulkina knows how to adapt on stage.
The Russian native has played a piano without pedals, another with missing keys. Once when the lights went out, she continued to perform in darkness for hundreds of astounded listeners.
Now Bulkina performs in an empty auditorium for a web-only audience as UNT students and faculty try to keep everyone safe during the COVID-19 pandemic.
"No matter what, my focus is always on the music," she said. "It's what helps me concentrate."
On a recent webcast, her hands danced across the keyboard of a black grand piano on an illuminated stage in the darkened Winspear Performance Hall in UNT's Murchison Performing Arts Center. Dressed in a flowing peach-colored dress, she moved to the dynamics of the piece.
The 34-year-old, who is working on a musical arts doctoral degree in performance, played Ludwig van Beethoven's Sonata in C-Sharp Minor, Opus 27, No. 2, also known as "Moonlight Sonata." Cameras and microphones recorded as she performed in an empty auditorium without applause. Online, viewers across the world are entranced, likely imagining the moon's shimmering reflection on Lake Lucerne just as German music critic and poet Ludwig Rellstab did when he wrote about the sonata's first movement in 1932.
"There is no substitute for the special moments in a packed auditorium, the way people smile and applaud, even the occasional cough or ringing cellphone," Bulkina said. "But when I am being livestreamed, I think about the best way to co-create with an audience online that is much bigger than any concert hall."
The painstaking decision to cancel all in-person performances was made as the coronavirus began to surge in March, said John Richmond, dean of the UNT College of Music.
An online presence is not new for the music school, which has been livestreaming performances for nearly a decade. The convergence of COVID-19 and the need to provide continued and safe performances led to the expansion of livestreaming to six of the college's 10 performance spaces.
As the days of the pandemic stretched into months, students and faculty found creative ways to keep the music alive.
UNT's popular One O'clock Lab Band recorded each instrument section separately and digitally combined parts in the studio.
Concert facilities were upgraded with the addition of 13 new high-definition robotic cameras and sound systems. Audiovisual control hubs were enhanced in the Murchison annex and Music Building. Renovations were made to the Music Building's Recital Hall, Choir Room and Merrill Ellis Intermedia Theater. Three full-time employees along with student workers run the recording services.
"It's been a bit emotional to watch how things have changed so rapidly," said Richmond, who leads the nation's largest public university music program with an enrollment of 1,600 students from 46 countries.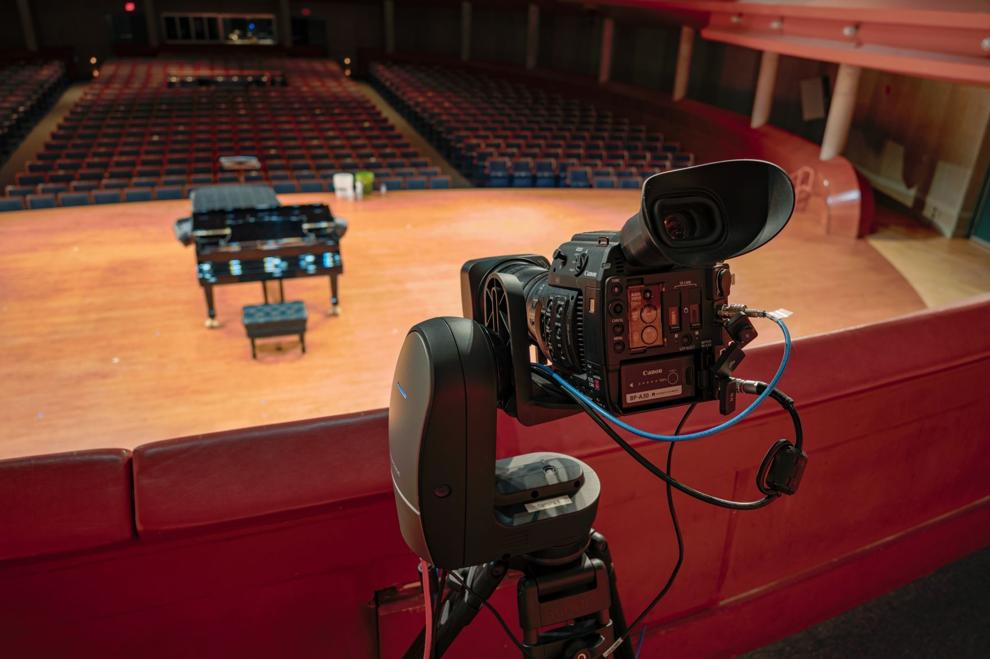 The college has seen an uptick in its engagement on social media. People stuck at home are hungry for the arts during this stressful time. And music is essential, in all formats, he said.
"Endless possibilities with technology are opening doors now and into the future," said Richmond, adding that he hopes to offer concerts to limited seated audiences in 2021.
Surprises have resulted from both sides of the camera, where a teacher can see a close-up of a student's jaw and facial muscles to improve vocal intonations.
"The students are extremely resilient, and together they have emerged stronger, much more committed to singing," said Carol Wilson, a voice professor at UNT.
Rehearsals and recorded performances are limited to small ensembles, and singers are required to stay distanced. They wear masks even while performing, making sure to enunciate each word. The piano is wiped down after each use. HEPA filters in rehearsal spaces circulate air, and groups rotate rooms to allow for cleaning.
More than 600 viewers watched "The American Soul," a recent online concert by UNT's A Cappella Choir. Heels clicked on the wooden stage as masked singers entered the Winspear Performance Hall, taking their positions 9 feet apart.
Allen Hightower, director of choral studies at UNT, faced the camera before the singing began.
"During this time of the pandemic, we musicians are struggling, all of us, but in particular those of us who are choral musicians, who desire to be together, who desire to share the wonderful experience of communal voice," he told the virtual audience. "We hope that our music will be an encouragement to you."
As the camera panned to him directing the choir, empty chairs could be seen behind him.
"It's a weird feeling singing to an empty space with no bodies in the seats, no applause," Wilson said. "That's when you have to go inward and remember why you are doing this. The soul needs a connection to a higher art."
Their parents, friends and spouses — everyone important in their lives — are with them at that moment, in spirit.
"That's what students tap into," she said, "the feelings on the other side of the microphone."