Guyer High School senior Carson Ozmer will be the first to tell you that his grandfather was his No. 1 fan.
Even though 73-year-old Phil Mackey lived nearly four hours away in Wagoner, Oklahoma, he still tuned in to all of Carson's games. Mackey had even subscribed to the ESPN channel that broadcasts Pennsylvania baseball where Carson will attend college later this fall.
"I really look up to him," Carson said. "He always put people before himself. That's how I am. I got it from him and my mom."
So when the coronavirus pandemic that is sweeping the globe led to the UIL suspending all activities through May 4, Carson understood. He knew the well-being of the community was more important than baseball.
But he never expected his family to be directly impacted by COVID-19 — much less his grandfather.
On March 15, Mackey began having difficulty breathing and was showing signs of pneumonia. He was immediately admitted to the hospital, and a week later, Carson's grandmother, Janelle Mackey, also fell ill.
Janelle Mackey was admitted on March 21, and that same day, she and her husband were tested for coronavirus. On March 23, the results came back positive.
But as Janelle Mackey's condition started to steadily improve, her husband's worsened. By March 27, just 12 days after being taken to the hospital, Phil Mackey passed away.
"It was a roller coaster," said Carson's mother, Gina Ozmer. "Never in a million years did we think it would start cascading and get to the point it is."
To make matters even more difficult, Gina, Carson and the rest of their family are currently in self-isolation after having contact with Phil and Janelle Mackey before they were diagnosed. The Ozmers' 14-day quarantine started on March 21.
The self-isolation, along with the hospital's rule that COVID-19 patients are not allowed to have visitors, meant the Ozmers were not able to see Phil Mackey before he died.
"It's definitely been hard," Carson said. "It all just hit at once. It is really tough. I've put baseball to the side for now and am just focusing on my family — that's what is most important to me right now."
Carson and his family are not experiencing any symptoms of COVID-19, but they are not taking any chances.
The Ozmers have relied on friends to grocery shop for them and will often have food left on their porch. Others, like Guyer coach Pat Watson, have helped by delivering dinner.
"We preach about our Guyer baseball program being a family," Watson said. "The Guyer baseball family is like an extended family for anybody at any time. We've got to lean on each other."
Since March 21, the Ozmers have left the house only to take their dogs on walks in the neighborhood. They are careful to practice social distancing and usually wait until it is dark.
But as Gina Ozmer notes, many of the people she has seen when they go out are not taking the same precautions.
"On both sides of our street, people were hanging out having socials," Gina Ozmer said. "They weren't six feet apart. And it maddens me. There's a reason this is happening.
"This is life and death. Parents should have said no and not let kids go on spring break trips. And I thought that way before my dad got sick, as well. We had already shut down sleepovers and stuff like that."
On Tuesday, Gov. Greg Abbott ordered all schools to be closed until May 4 while also extending social distancing guidelines through April 30. Denton County also extended its stay-at-home mandate through April 7.
"The impact just continues to be exponential," Gina Ozmer said. "This has affected so many people, and we've got to do our part to stop it. Our family is out of isolation on April 4, but we aren't going anywhere. We're watching our economy crash. It's affecting so many people. I just pray that people for two or three weeks, let's just all stay home."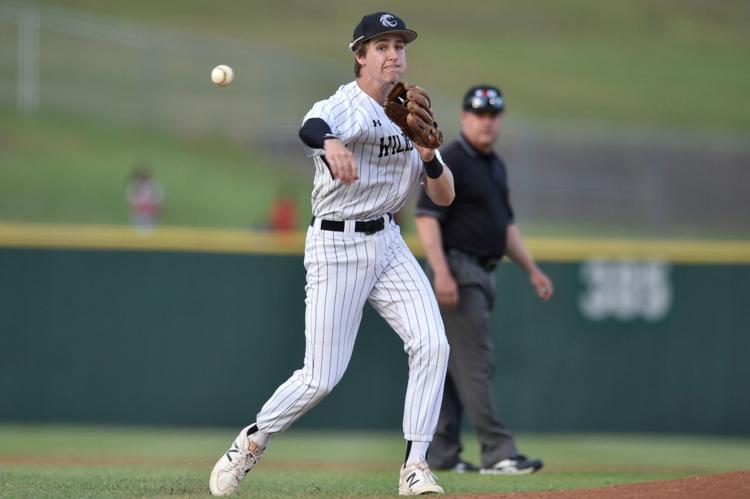 For Carson and his family, the impact of the coronavirus pandemic has been swift and devastating.
Carson has already lost his grandfather, whom he describes as a role model. Now, his final season in a Guyer uniform is in jeopardy. The Wildcats had gotten off to an 8-4-2 start to a season they are now unsure if they will get to finish.
At this point, all Carson wants is a chance to see his team again before he graduates.
But he knows there is a very real possibility he might not get to.
"[Guyer baseball] has been my home and my second family for the past four years," Carson said. "I'm just not ready to leave it right now. I want at least one more practice with my team. That's all I'm asking for right now. I've had the best teammates, and that has really transformed me into a better player and a better person. These are friendships that I'll never forget."