Denton County Public Health hosted the first of two vaccination clinics for the week Tuesday morning, administering hundreds of Moderna COVID-19 vaccine doses to county residents. Here's what their experience was like.
Only those who fall within Texas' Phase 1A (health care personnel) or 1B groups (anyone over 65, or anyone over 16 with a chronic medical condition) are eligible for this week's clinics, which will continue to be the case until the state reaches the next step in its vaccination timeline.
Five hundred doses of DCPH's 3,500-vaccine allocation were dedicated to Tuesday's clinic, with the majority of recipients falling into the 1B group due to age or health conditions. For all of DCPH's clinics, eligible recipients must register in advance for the waitlist at dentoncounty.gov/covid19vaccine and arrive at their scheduled appointment.
At Tuesday's drive-thru clinic, held at the University of North Texas' Discovery Park, residents remained in their vehicles as they were directed through multiple stations. Those included a check-in, the vaccine tent where nurses administered the shot, and tables where recipients were given a card providing a vaccination record and letting them know when they will need to attend another clinic for their second dose.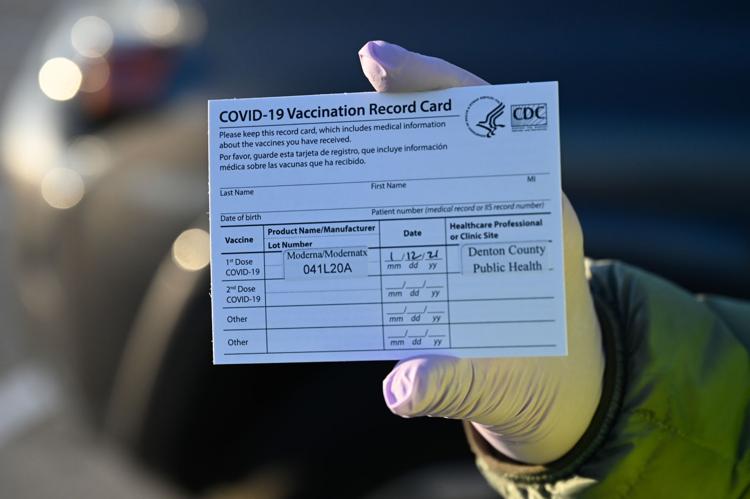 After receiving their card, recipients parked and waited to ensure they didn't have a reaction to the shot before leaving. The entire process took between 30 and 45 minutes — and even less in some cases.
DCPH spokesperson Jennifer Rainey said Monday that Tuesday's clinic would serve as somewhat of a test for Thursday's clinic, when the remaining 3,000 vaccines from the week's allocation will be administered. Though on a smaller scale, Tuesday's clinic appeared to pass that test, as staff and volunteers had vaccinated around 300 people a little after an hour into the event, which ran from 7:30 a.m. to noon.
Much of that efficiency was due to recipients arriving early, as nurses started vaccinating before the 7:30 start time. However, Rainey strongly recommended that recipients arrive at their scheduled time slots, as a large number of people showing up early could cause congestion issues with larger-scale clinics like Thursday's.
Tuesday was a success for the vaccine recipients as well, many of whom had been awaiting it for months. While maximum protection from the coronavirus doesn't come until after the second dose is received — and even then, officials recommend continued distancing, facial coverings and hand-washing — those who were given the shot said they were relieved the wait was finally over.
Bobby Martin, a resident who falls under the Phase 1B group due to his age, said getting the vaccine is the first step in loosening up some of the restrictions he has followed throughout the pandemic.
"It was very organized and thorough," Martin said. "For me, it was a relief. This is the beginning of releasing those restrictions for me."
Patt Bowles, another resident whose age places her in the 1B group, said she was pleased with DCPH's adjustments after the county's initial phone-based registration system failed to keep up with call volume.
"The very first time it became available, it was frustrating," Bowles said of the phone system. "The web sign-up was very easy and clear, with really good communication."
Bowles, who trains workers at such places as hospitals and schools to use emergency management systems, said the vaccine will give her peace of mind when entering high-risk areas.
Denton County Judge Andy Eads and DCPH Director Matt Richardson addressed media shortly after the clinic began, with Richardson saying the vaccinations are a vital step in ending the pandemic for good.
"This is an important day and the beginning of the end of a pandemic — here locally, statewide and in the nation," Richardson said. "We're going to administer as many as we can as often as we can, based on availability of vaccine."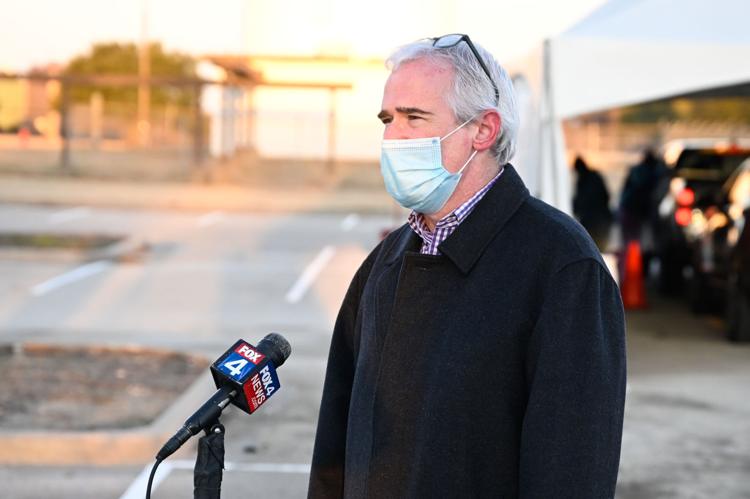 Richardson said DCPH doesn't know yet how large a scale it could push its clinics to, but that it could be much larger than even Thursday's 3,000-vaccine clinic at C.H. Collins Athletic Complex, which he added will be another test for the department.
"We're not sure what the ceiling is," Richardson said. "We anticipate that if we had enough vaccine, we could do even larger clinics more often."
Later in the morning, as the clinic continued, Richardson addressed the public during his weekly COVID-19 presentation at the Denton County Commissioners Court meeting. While the arrival and administration of vaccines has been an important step, he made it clear that precautions such as social distancing and face coverings must still be used as cases continue to rise, with the county reporting 13,367 active cases as of Monday afternoon.
"While we are all collectively fatigued, they [masks and social distancing] couldn't be more important than they are this week," Richardson said. "It is, in fact, a tipping point for COVID-19 transmission. We need to do all we can to prevent further transmission."
With the start of vaccine clinics, the county's coronavirus testing webpage changed Tuesday to note that "DCPH is no longer offering COVID-19 testing, as DCPH is now a mass vaccination hub."