Local COVID-19 cases are stacking quickly alongside what Denton County Public Health Director Matt Richardson called an "unprecedented" rise in one statewide statistic: molecular test positivity, which has reached an all-time high of 35%.
By Richardson's presentation at Thursday afternoon's Commissioners Court meeting, it had been nearly a month since he last spoke publicly on COVID-19 trends. Since then, what was a fairly consistent flow of cases has turned into an avalanche, with the Centers for Disease Control and Prevention estimating the omicron strain now accounts for over 95% of cases in the region.
According to DCPH's symptom onset data, the week of Dec. 19-25 gained over 1,000 cases compared with the week prior, including the 20-29 age group more than doubling from 295 cases to 744. The percentage of inpatient hospital beds taken up by COVID-19 patients has seen a subsequent increase as well, once again bringing hospital capacity concerns to the forefront.
"Omicron is indeed another surge and another wave," Richardson said. "One in five people in Denton County hospitals has COVID-19."
Though DCPH has a variety of county-specific stats at its disposal, it was a statewide metric that best demonstrates how widespread the current surge has been. The Texas Department of State Health Services reported molecular test positivity at an all-time high of 35.08% Wednesday. That positivity barely topped 20% during the first two surges in July 2020 and last winter, and never reached 20% during the delta variant surge.
"This is an unprecedented, meteoric rise in positivity," Richardson said. "We're talking about at Halloween, 5% positivity, even December 15th, 10% positivity — yesterday, 35% positivity. … That is stratosphere level."
The state also reports positivity for the less accurate antigen rapid tests, which has hovered at just above 20% for about a week. Antigen positivity topped out at 25.1% during the first major coronavirus surge and hasn't hit current levels since then. The daily number of molecular tests administered has also risen to an all-time high.
Richardson continued to stress the importance of the COVID-19 vaccine and booster shot, including the release of new "decision tree" charts for general use and school use. He said the charts are based on CDC guidance and walk residents through the best practices for isolation and quarantine. That latest guidance includes that anyone who's been boosted doesn't need to quarantine if they've been exposed to someone who tested positive.
"The vaccine is the best option to get back to work," Richardson said.
County officials appointed Brad Sebastian the new head fire marshal Thursday after last year's death of Roland Asebedo. Sebastian came to the emergency services department as a deputy fire marshal in 2015 and has served as assistant fire marshal since 2017.
"I want to thank Jody [Gonzalez] for the mentorship, as well as Roland," Sebastian said. "I wouldn't be standing here today without that mentorship."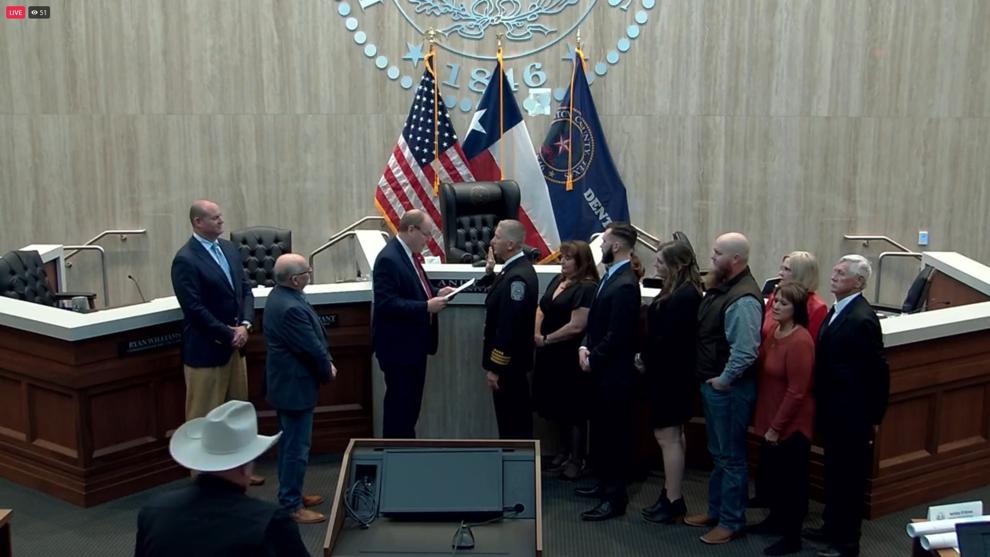 Denton County Economic Development Director Michael Talley, who held the position for three years, also was recognized after his resignation. Talley will be taking a job in the city of McKinney. County communications director Dawn Cobb said officials aren't close to naming a new economic development director.