Editor's note: This article is available free of charge for all readers as part of the Denton Record-Chronicle's continued coverage of the coronavirus outbreak and response. Look for additional articles on the outbreak, available free for unlimited access, at DentonRC.com. To support critical journalism such as this, please consider a digital subscription.
An earlier version of this story included an incorrect telephone number in the accompanying box.
While Denton County locals are whiplashed by their workplaces closing or hours being cut due to the response to the novel coronavirus, a local nonprofit food pantry and clinic has stepped up its aid. And should the county need the clinic to test or treat coronavirus patients, the nonprofit is prepared for that possibility, too.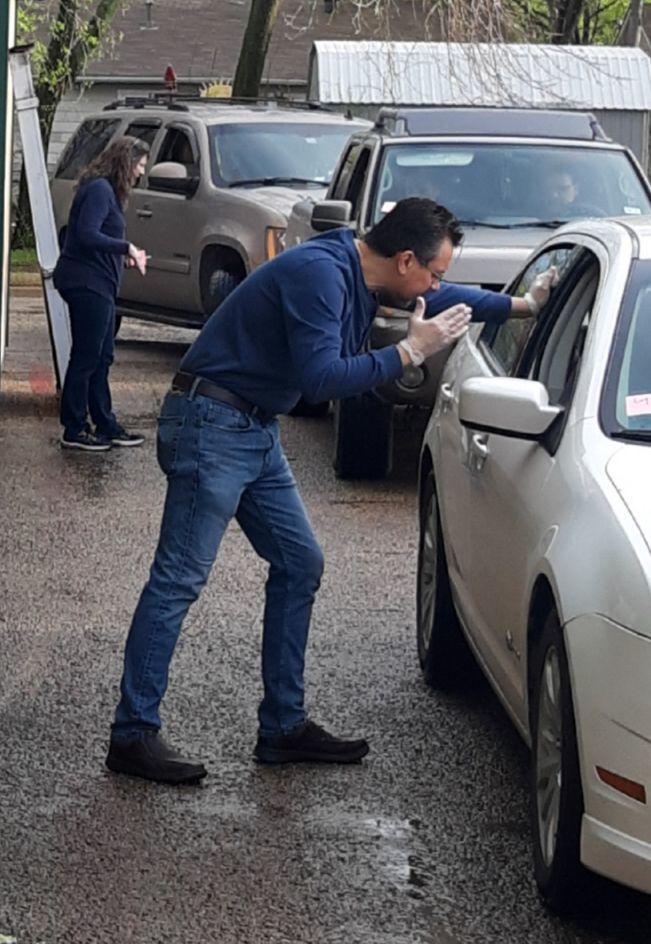 " We're definitely expecting more need," said Paul Juarez, executive director of First Refuge, a Denton nonprofit that runs a clinic, food pantries in Denton and Sanger, and offers counseling services to low-income people. The nonprofit is supported by 14 ministries.
Juarez said the traffic to First Refuge's Denton food pantry surged this week, in time with restrictions and closures of businesses as anxieties about the infectious disease mounted.
"On Wednesday, 73 cars came to the pantry. On Thursday night, 65 cars came through the drive-thru, and that was just in two hours. That's incredible," Juarez said.
Typically, people can walk into the Denton pantry to get groceries. But with restrictions and recommendations changing the way business is done, First Refuge retooled its pantry as a drive-thru service. Cars drive up to the building, and a volunteer approaches the passenger side of the car and collects brief information that is passed along to the North Texas Food Bank, the nonprofit from which First Refuge orders food.
The volunteer then goes into the building to get groceries, loads them into a shopping cart and delivers them. Sometimes, Juarez said, another volunteer offers to pray with the driver and passengers.
"So far, not one person has turned down a prayer," he said.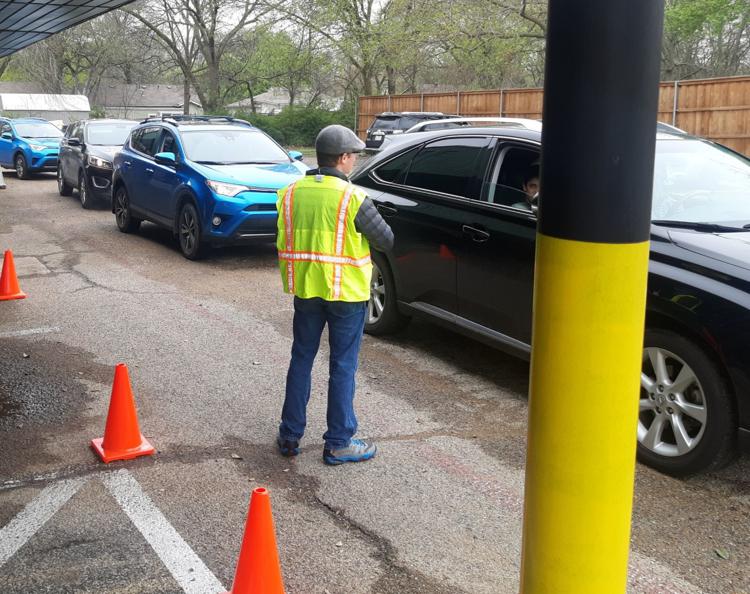 Inside, First Refuge's pantry holds exactly 10 volunteers, who bag the groceries for drive-thru pickup.
"The vast majority of our volunteers are vulnerable [to the virus]. They are older and retired," Juarez said. "Some are taking precautions and have decided to stay home, which we support."
Juarez said new volunteers are welcome to call. They'll be asked some questions — if you've had a fever or have been sick, you won't be called on to volunteer right away. Volunteers who haven't been sick or run a fever come to the pantry 30 minutes before their shift starts.
"We have the device that you put on the forehead to take the temperature of volunteers," Juarez said.
First Refuge's Sanger food pantry doesn't have a drive-thru available, so recipients are welcomed into the front of the building, are given bagged groceries and then leave through the back of the building to limit face-to-face contact.
The First Refuge clinic remains open but isn't recruiting new volunteers, Juarez said. The medical staff and the receptionist remain and are treating qualified patients to fill prescriptions, treat chronic conditions and conduct exams.
"We need to be here for our patients, to do things like take their blood pressure," Juarez said. "Right now, we're qualifying people over the phone, and we're not seeing them if they're sick, which is in keeping with other clinics right now. We have a nurse practitioner seeing patients on Monday, a nurse practitioner seeing patients on Wednesday, and the clinic physician, Dr. [McLean] Sanborn, is seeing patients on Tuesday."
The clinic ordered IV bags, gloves and other supplies to be ready to respond should Denton County Public Health call on the clinic to serve as a coronavirus treatment or testing location.
"If that was needed, of course we would say yes. And we wanted to be ready for that," Juarez said.
The nonprofit has seen a dip in counseling, but Juarez said clients are able to use a secured app to see a counselor in a video conference.
With the need spiking in Denton, Juarez said First Refuge will need donations. Financial donations go further than anything.
"We order food from the North Texas Food Bank, and since we pay 10 cents on the dollar, we can make our money stretch," he said. "If people want to help, I'll be honest: The best thing to do is to give money."