Denton City Fire Chief Kenneth Hedges briefed city leaders this week on local preparations for a possible surge of people with COVID-19 needing hospital care in the coming weeks.
While Denton County is the ninth largest in Texas by population, its COVID-19 case count was the fifth highest in the state as of late Thursday, surpassing Bexar County. 
In a virtual City Council meeting Tuesday afternoon, Hedges reported the latest information from several working groups of city staff and health officials. Those groups are tackling specific issues related to the city's resilience and readiness for a surge. He told council members he expected to take their questions back to the working groups for collaborative answers.
"We are in unprecedented times," Hedges said.
One working group is refining how police and paramedics respond to 911 calls, Hedges said. Another group is working through the virus hot spot at Denton State Supported Living Center and other health care resources needed to prepare for a surge. One group has focused solely on the city's inventory of personal protective equipment, including how to preserve it and clean it.
As of Wednesday afternoon, 73 cases involving residents and staff had been reported at Denton State Supported Living Center. The center is home to about 440 individuals with developmental disabilities and 1,000-plus staff members who help care for them. All but two of the residents have been tested at this point, Hedges said.
A team of infectious disease experts visited the center last week. They studied the center's emergency plans for a pandemic and refined them. In addition, a four-person team from the state is handling the logistics of putting the new plan into action, Hedges said.
The state also staged four ambulances at the center. One is outfitted for critical care with a ventilator, and the state can increase its capacity for critical care transport, if needed, Hedges said.
In addition, those ambulances will take patients to one of 30 hospitals in the region, rather than risk overwhelming the local hospitals with patients from the center, Hedges said.
As a result, Denton paramedics aren't responsible for 911 calls emanating from the center, he added.
Also, for the time being, the department will no longer respond to falls at nursing homes. Previously, paramedics would help the nursing home staff lift patients.
The decision reduces the department's workload and the possibility of COVID-19 exposure in a higher-risk environment, Hedges said.
Denton County Public Health officials have not publicly identified COVID-19 cases in area nursing homes, but Dallas County has an increasing number of cases emanating from nursing homes.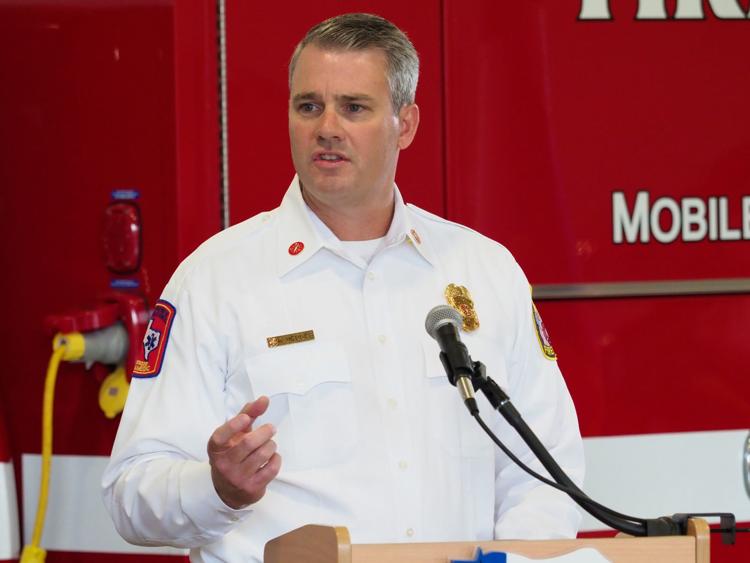 The department has received a lot of emails and tips for how to reduce its health risk in responding to calls, Hedges said. The working group charged with researching those tips and determining the best practice is taking its cues from the Centers for Disease Control and Prevention, however.
Denton's police and paramedics have refined their response to COVID-19 calls, too, to preserve gear and protect themselves from exposure. A small working group focuses solely on the city's personal protective equipment supply, including methods for cleaning and disinfecting for re-use.
Hedges said the supplies are good for now, but the city also is planning for two, three and four weeks ahead.
"If we didn't do that, we wouldn't be doing our due diligence," Hedges said.
Hedges couldn't say whether a temporary hospital would come to Denton, like the one currently being erected at the Dallas convention center.
"Those are operated by the U.S. Navy hospital system," Hedges said.
Denton's two hospitals don't have the capacity to operate outside their walls, he added.
But they are now required to report their bed capacity to state and federal officials who are planning for a possible surge in patients needing hospital care in the coming weeks.
Council member Keely Briggs said city leaders needed to know how far away the region might be from a patient surge that would stretch or surpass Denton's ability to respond.
"I think it's important that as we make policy decisions, we need to know what we have locally," Briggs said.
City Manager Todd Hileman said city officials aren't being left out of conversations, but that the crisis is being managed regionally.
"I still don't know what we're allowed to share that publicly," Hileman said. "But it is actually being managed in a more of a system-wide perspective."
The City Council is expected to meet again in a few days to discuss the local emergency declaration and what residents can and cannot do during "stay-at-home" orders. Denton County has a stay-at-home order in effect until April 7. Gov. Greg Abbott issued a statewide order identifying essential businesses and limiting social contact through April 30.