Parents contacted Wednesday generally said they thought the first day of Denton ISD's 2020-21 school year went relatively well as most students started virtual learning.
Minor technical difficulties seemed common, but few mentioned dramatic problems Wednesday afternoon.
Leah Strittmatter, a student assistance counselor at Meyers Middle School, worked from the campus Wednesday while her two children took classes online in her office.
Jackson and Olivia, 9-year-old twins in the fourth grade, were set up on laptops at a corner table in her office Wednesday.
Strittmatter said she was grateful Denton ISD allowed district employees to bring their children to work, and she's thankful to still be working. Even so, she said her job as crisis counselor is made more difficult when she can't meet in person with students who need her help.
"I think with everything going on, there are challenges going on for every person," Strittmatter said Wednesday afternoon.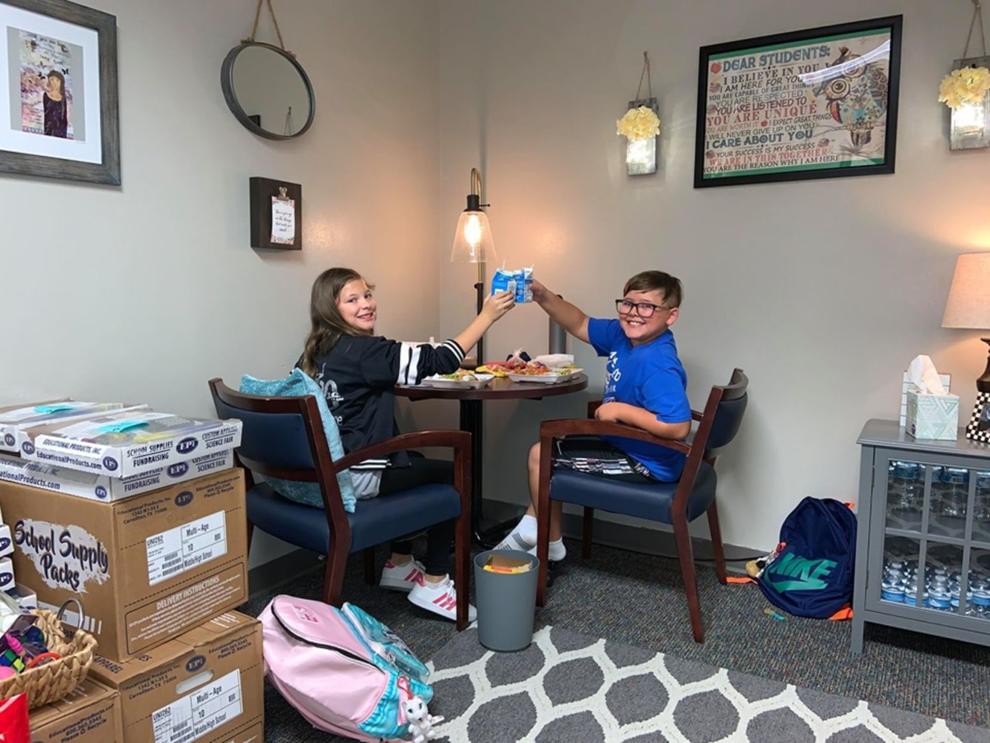 Reached by phone, she said she was drafting a consent form to send to parents that would allow her to conduct virtual mental health checks with students.
Amber Briggle, mother of two Denton ISD students who started school Wednesday, said the day went as well as could be expected, but her kids had two very different experiences.
Her daughter, Lulu, started third grade. She started off the school year with roughly 20 other students online.
Briggle said her teacher was on top of the day and even went as far as having backup activities in the event of internet crashes.
"These kids and her teacher are dedicated to ConnectedLearning," Briggle said, referring to the district's online learning program.
Lulu stepped away from the computer a few times for what her mother called "brain breaks" and was burned out by the time the school day was nearing its close. A few assignments weren't loading, so Briggle let her sign off and relax after a hectic first day.
"So now she's just upstairs watching cartoons and eating Cheetos," Briggle said.
Her son, Max, started his first day of middle school around the same time as his sister. The challenges facing secondary school students are trickier due in part to the difference in schedules between them all. Despite some difficulties, she said Max stayed busy all day and finished up on time.
She said she thought district employees did a great job keeping students engaged, and she was confident Superintendent Jamie Wilson would make the right calls moving forward.
Her only complaint concerned the tech support numbers put out by the district: Classes started roughly an hour prior to the 9 a.m. opening of the hotlines.
Meanwhile, Sarah Espe babysat twin Denton ISD kindergartners while her daughter, Payton, took her 11th grade classes from Lake Dallas High School online.
Lake Dallas ISD, like Denton, started back with most students learning remotely Wednesday.
She said the trio was handling the first day pretty well. She chalked that at least partially up to the past two weeks of preparation they've done to ensure a smooth start.
Additionally, she was impressed by how both districts handled the remote start to the year.
"I think it went really excellent," Espe said of the first day back. "Compared to the virtual learning at the end of last year, it was more put together."
Brooke Moore echoed that sentiment. Her daughter started first grade at Denton's Wilson Elementary School.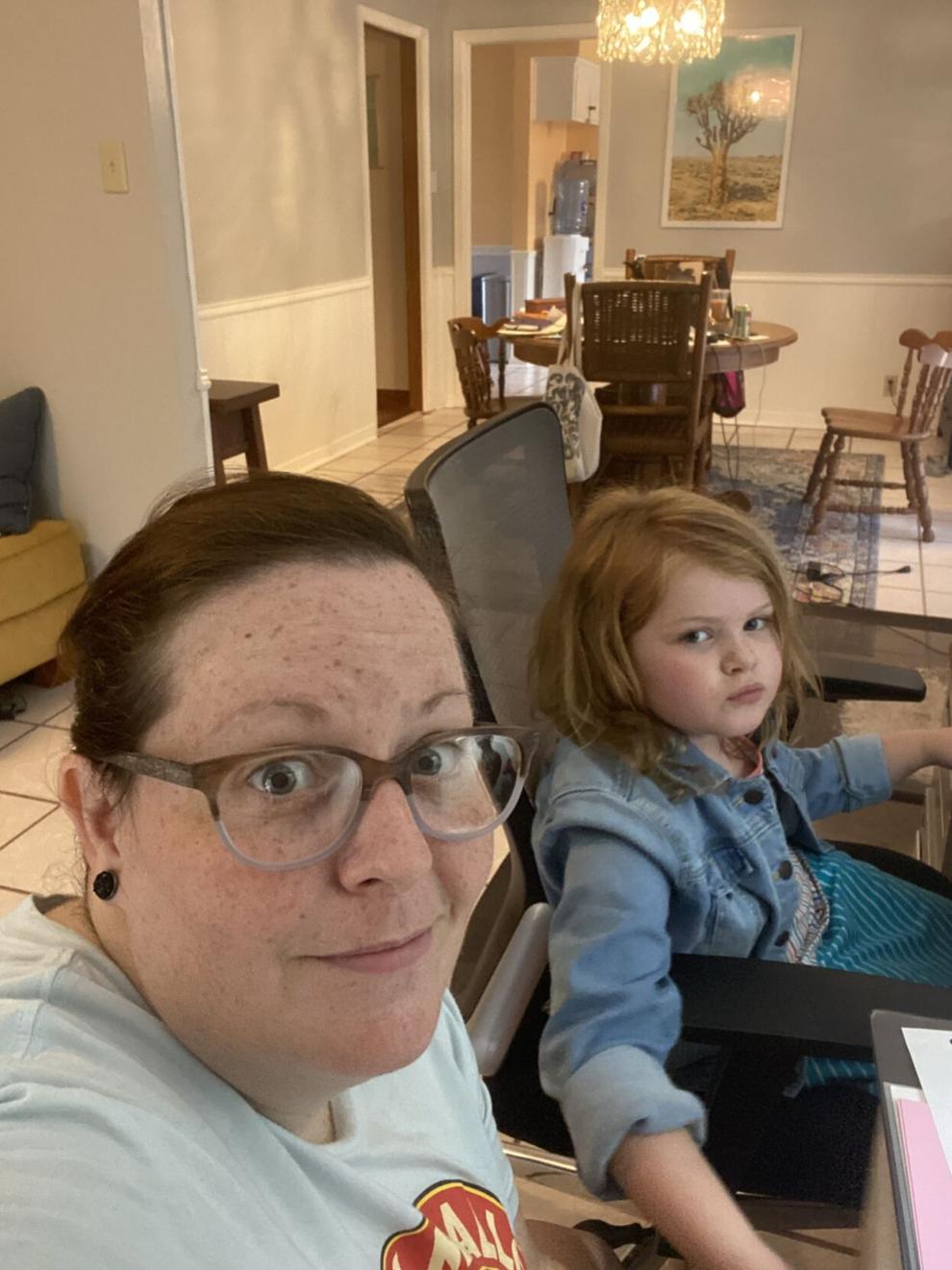 The juggling act between full-time work and her daughter's classes felt "like running a marathon without even leaving the house," she said in an email Wednesday afternoon.
Despite that, she was happy to see her daughter learning and connecting with friends and teachers alike.
Espe, Briggle and Strittmatter all indicated their children had a successful first day of classes despite the strange terrain.
When asked how her children were feeling about the new school year toward the end of the first day, Strittmatter briefly turned away from the phone to ask them.
"One put thumbs up and one put thumbs down," she reported after a brief pause.
She said they both missed the human connection school brings, but the family is waiting to see how the pandemic progresses before the children head back into the classroom.
Alasdair Green, a fourth grade teacher at Denton ISD's Bell Elementary School, would have smiled through the phone if such a thing were possible Wednesday. He said the minor technical difficulties were overshadowed by how happy teachers were to see students and vice versa.
He'll spend the first two weeks of the school year teaching a hybrid group of 14 students evenly split between his classroom and their laptop screens.
"The kids have missed school, whether it's online or in person," Green said.
The current plan is for him to start teaching a fully face-to-face class beginning Sept. 8.
He attributed much of the day's success to a decision campus employees recently made. They decided their attitude would make the difference "so we just put a really positive face on this uncertainty."
At the end of the first day, Green said it was good to have students back, even if that looks slightly different in practice than everybody might have hoped for.