There is no shortage of places most locals can head to get some form of test for the COVID-19, the disease caused by the novel coronavirus.
County-sponsored testing events, hospitals, urgent care centers, schools and more provide a local testing capacity that simply didn't exist in the pandemic's early days in Denton County.
The University of North Texas began testing students and employees in March, but the testing program has had to evolve to accommodate the scale it serves.
Cynthia Hermann, executive director of the school's Student Health and Wellness Center, said they were testing students and sending samples to outside labs for results.
The polymerase chain reaction test, more commonly known as PCR tests, are molecular tests that can be completed in a few minutes with an on-site lab. Backlogs and large influxes of tests mean labs have often taken much longer to process results from such tests.
"The issue with the PCR test was the turnaround time," Hermann said. "Initially, it was very long."
In at least one instance, she said, a student had already left their two-week quarantine by the time a test confirmed they were infected.
The center has since acquired some of its own laboratory equipment that allows professionals to get testing results in-house.
For the most part, Hermann said the center transitioned to using rapid antigen tests. Whereas PCR tests look for genetic material of the virus, antigen tests detect certain virus proteins. Antigen tests are less accurate than molecular tests, such as the PCR test, but they are faster, according to the Food and Drug Administration.
"It has allowed us to do some random sampling here on campus," Hermann said.
She said testers head out three times a week to test asymptomatic groups of students on campus. She estimated 1,600 students had gotten tested through the Student Health and Wellness Center by Friday morning.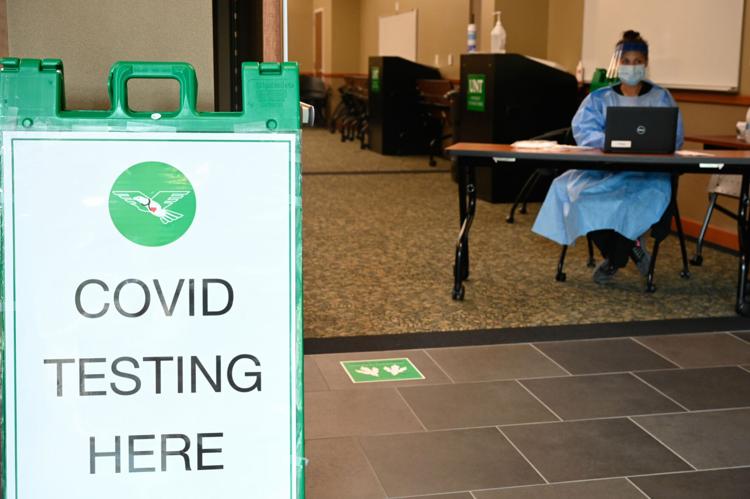 Texas Woman's University uses PCR tests. University spokesperson Matt Flores said it takes anywhere from 48 to 72 hours for results to get back in most cases.
TWU has also worked to get rapid testing into place as more of a surveillance measure.
Flores said an outside lab processes results from the PCR tests and reports them to Denton County Public Health and state agencies.
Over at UNT, Hermann said test results from the antigen tests are passed along to DCPH. Students who test positive are then reached out to by contact tracers for the university and county health departments.
DCPH spokesperson Jennifer Rainey said the department wasn't including positive results from antigen and antibody tests by Friday evening, but the county health officials are working through ways to eventually report those numbers.
She said the county does include positive results from PCR tests in official counts.
As of Friday, 49 UNT students were infected with the virus that causes COVID-19. The same was true for four employees. A spreadsheet with active numbers is updated for UNT each Friday.
TWU has an online table with more specific information about each person who tests positive for the virus. As of Sunday afternoon, five people were in isolation with the virus.