Jennifer Gibbs feels like she's been playing a game of Simon Says since the first government-mandated business shutdown in March.
The owner of Dusty's Bar & Grill and Game Changers Sports and Arcade Grill first tried in May to get her businesses reclassified as restaurants since their alcohol and food sales were close to equal. Both were offering to-go for customers, but an average day cost $200-$300 in labor and would net only $100 a day in sales.
She was finally able to make the changes in late July, paying new permit fees and legal fees to be able to reopen both establishments as restaurants based on having a higher percentage of food sales since March.
"Every single day I'm checking our percentages to make sure we're hitting what we need to," she said. "I got tired of sitting around and letting [Gov. Greg Abbott] have our fate in his hands. ... At least we can die trying instead of being dead in the water."
With no guidance or timeline from the governor on when bars can reopen, local bar owners say they're frustrated. Business owners are having to make hard decisions about their fate — adding to-go service, changing licensing to be classified as restaurants or closing down altogether.
Abbott's latest news conference on reopening said bars could reopen when metrics improve, stating hospitalizations need to decrease and the state's testing positivity rate should be below 10%.
With no end in sight, Richard Underwood, owner of Crossroads Cocktails and Karaoke, decided to permanently close the bar last week.
"At this point, we're $22,000 behind in rent — what's the point of keeping going when there's no end in sight?" he said. "But we're still around. We're down, we're not out."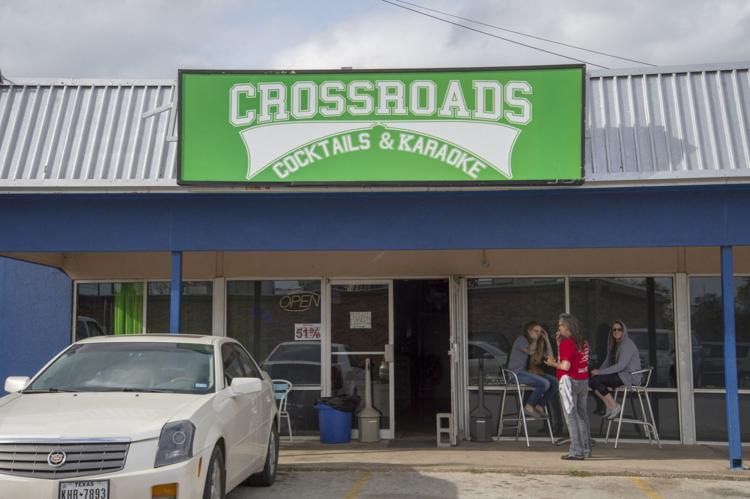 Underwood said he was discouraged after the first 60 days, and with no communication he felt like he had to make the choice to close after owning the bar since 2014. Instead, he's putting his efforts toward a new venture: the Karaoke Cruiser, a mobile karaoke and party bus.
"Keep an eye out — things are going to get better," he said. "I haven't been this excited in a long time. It's a new adventure, and I'm ready."
Erica Pangburn, president of the Denton Chamber of Commerce, said the chamber is partnering with the Frisco chamber to bring attention to the issue with elected officials. Still, they don't have answers either, and no one seems to know what the governor is basing his decision on, she said.
"This is extremely disappointing, and we're going to continue to advocate on behalf of these organizations in any way that we can," she said. "It is frustrating to work so hard and feel so ineffective at the same time."
With traditional efforts not working, John Williams, who owns three bars in Denton, has been posting daily on social media trying to get Abbott's attention.
When everything was able to reopen in June, Williams and his staff spaced out tables in the outdoor spaces at East Side Denton, Miss Angeline's and Oak Street Drafthouse and decided to offer table service. But after a few bad actors were outed in news reports, all bars across the state were shut down again.
"We definitely went over and beyond and spent a lot of money to do it right, then all of a sudden we were closed with no warning. I don't know if we can make it six months; it almost feels like what he's trying to do is make the bars go away," Williams said of Abbott.
In the meantime, he's doing whatever he can to keep his staff afloat. He started Yard Tenders to help his bartenders keep making money by doing lawn service and home projects around Denton. He also launched to-go drinks at his flagship property, East Side, last month.
Even though Gibbs found a way to reopen her businesses, being back open is a struggle. Patrons and servers aren't used to table service, there are new measures in place like disposable menus, and the staff is constantly sanitizing.
"Their workload has tripled," she said. "They've become hostess, server, bartender, enforcer and sanitizer all in one while we're understaffed. It's been rough on them."
Still, Gibbs is grateful she's able to get back to work, and is working to help other bars make the transition to be able to reopen.
"It's definitely been hectic and stressful," she said, "but at least we can die trying — we can get up and have a job to go to."