"Normalize therapy as maintenance." "Drink water today." "Thoughts have power."
These messages aren't what most college students expect to see spray-painted on the outside of their local bookstore, but at Voertman's, the graffiti is by design.
Staff at the textbook store, located just off the University of North Texas campus at 1314 W. Hickory St., opened a roughly 160-square-foot section of outdoor wall space on the campus side — which faces Fry Street — for public art last week. People had tagged the side of Voertman's in the past, and social media manager Reagan Boerner said that this time, they decided to embrace it.
"We kept doing murals and stuff out there, and they just kept getting vandalized, and so we're like, why not embrace that and let people have a creative outlet space that's legal," Boerner said.
Boerner, who is also a junior at the University of North Texas majoring in graphic design, first came up with the idea when she began working at the bookstore in July. It didn't gain traction until February or March of this year, when Boerner reached out to the city to get approval for the project. Once she did, staff gave the nook a new white base layer and put the first tags on the space, creating promotional videos for social media.
The response was swift, Boerner said.
"The day after we posted we already had people come in and buy spray paint and go out there," Boerner said.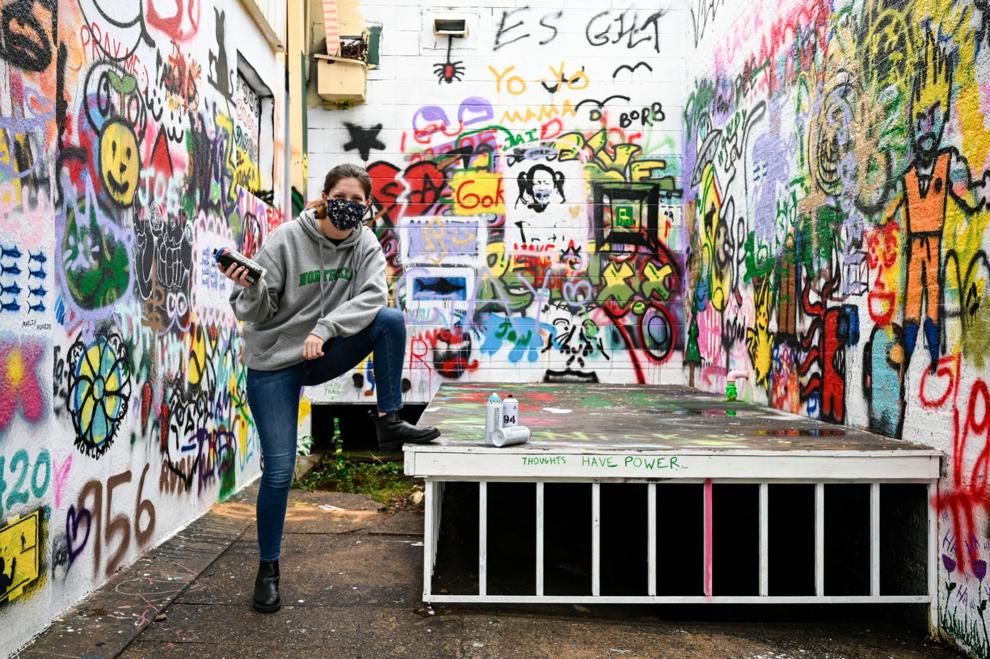 Voertman's has already seen an uptick in sales in spray paint in the week the nook has been up and running, though artists can bring their own supplies, art department manager Caitlin Bradford said.
The project was inspired by The Graffiti Bridge in Pensacola, Florida, an old railroad overpass open to public art. The bridge's exterior has been constantly evolving since 1935, long ago becoming a landmark in Western Florida.
That spirit of evolving creativity is one staff hope Voertman's own graffiti hub can foster, especially amid the pandemic.
"It's kind of a shame how fewer people are kind of coming to Fry Street, and so the whole idea was to be more inclusive and like try to get people to express their creativity and feel like they're part of the community," Bradford said.
The project is also a way to promote inclusivity in art and bring a sense of permanence to the area, said Bradford, who supported Boerner's idea when she introduced it last year.
"There's a huge art community in Denton, but not a lot of it is flourishing free of the university, so I've always thought it would be a good way to get people involved who might be intimidated by galleries or university art," Bradford said. "With Denton especially, people just sort of come here for school, and it's like a transient space, so for people who live here full time and invest in the community, it's good to have those spaces that are more permanent for people."
Staff plan to let the art naturally evolve, leaving it untouched unless someone tags something illegal.
As for what's next for the space, they hope it will help the Fry area maintain some of the unique creative culture that has always attracted students.
"I definitely think the nook is a good step in the direction for bringing some new life to Denton and Fry," Boerner said. "I just transferred to UNT, so I never saw Fry in its prime, but I've never been like, 'You know what I should do, I should go out to Fry Street.' I think with the pandemic it's just kind of lost its creativity, and I feel this would help bring that back and give not only students but the Denton community a place to be like, 'Hey, let's go do this.'"