DALLAS — Ryan Lochhead walks into the entrance of the Chair Care Patio in Dallas on another busy Thursday morning. He sits down at his station and begins running his hands back and forth, guiding dark green fabric across the center of a white Juki sewing machine.
Ticking sounds from other machines surround him and his eyes focus on the hospital gown he is making for a medical worker.
A woman approaches his station holding up a white gown she has finished. He lifts his eyes from his machine, glances at the woman and smiles from ear to ear. The woman is his sister, Emily Lochhead, who is also working hard to help health care workers in surrounding areas.
"I never thought I would be here," Ryan Lochhead says. "I am just thankful to have a job and to help medical workers who are battling every day to help our country."
The minutes turn into hours as he quickly moves gowns along his machine. He pushes his chair out from under him and he carries his completed stacks to a box that is sitting on the side of his table. Once the box is full, he closes it so everyone will know it is ready to be sent out.
This experience is new to Lochhead, a student at the University of North Texas in the Mayborn School of Journalism used to the clicking sounds of a camera. While attending classes he worked as a freelance photographer before the COVID-19 pandemic shuttered businesses and he found himself with fewer opportunities for work. Like many students, he had to find another job to pay the bills while finishing up the semester.
"All income is vital right now," he says. "I'm grateful to be able to ride out the storm in a place that allows me to give back."
He's making masks, face shields and gowns at the Chair Care Patio, which usually makes unique custom outdoor cushions and pillows for patio furniture. The experience is also new to the 30-year-old company, which has turned its shop into a production site for hospital masks and personal protective equipment for health care workers in North Texas. While Texas remains under stay-at-home orders, the work the lawn chair shop is doing to help medical workers is deemed essential.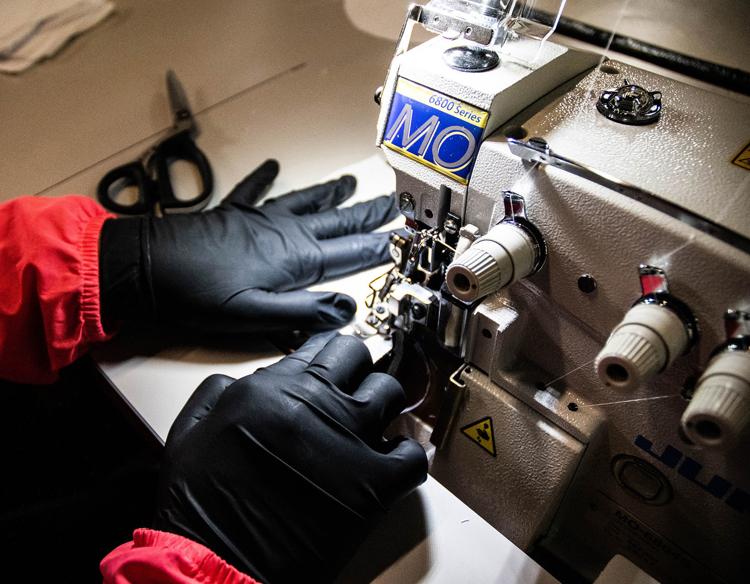 Lochhead's childhood neighbor Debi Martz owns the company. She was approached by a local hospital employee asking her if they could make personal protective equipment. They started at a pace sewing 500 gowns a day and now produce over 1,000 a day.
"It's a major change," Martz says. "We are a one-of-a-kind cushion company and now we have moved to a high-speed, high-production shop."
Martz was able to keep all 30 of her current employees employed and hire extra help. Lochhead works between 30 and 35 hours a week but he still goes out to capture photos of what's going on in surrounding areas.
At the furniture shop, Lochhead finds himself bobbing his head to his music and his machine keeps moving. He glances at the clock on the wall. It's nearly 3 p.m. A Zoom meeting for his photojournalism class will be starting soon. He finishes his sewing for the day and cleans his station before leaving.
"This whole experience has changed my perspective on a lot of things," Lochhead says.
He packs up the remainder of gowns and masks placed in piles around his station. He runs the tape along the top of the box sealing it shut. He pushes it back to the side and make his way to grab his belongings.
He makes his way to his car. Class is starting soon.