On their back porch in the Denton suburbs, a couple make handmade jewelry, designing and building their pieces entirely from the ground up, from design to gem cutting to the final product.
After being unable to work in early 2020 because of COVID-19, these two University of North Texas graduates have been active throughout the pandemic as jewelry creators that operate entirely independently, marketing, designing, creating and selling their pieces by themselves.
Kera Dockins, a 2020 UNT graduate with a bachelor's degree in music, is the owner of Modern Folia, a handcrafted jewelry business run with her boyfriend and business partner, Ryan Kirby, who also has a music degree from UNT.
Dockins, a self-taught metalsmith, and Kirby, a self-taught lapidarist (someone who cuts and shapes gems and stones), both produce their handcrafted jewelry at their home in Denton. Originally a small online vendor selling jewelry to friends and family through Dockins' parents' yoga studios, the business has expanded to its own small enterprise with a dedicated online store and a Facebook page. The business was originally founded as "Namatags" (a play on the word "namaste") by Dockins' mother, Stacy Dockins, about a decade ago and has been owned by Kera Dockins since 2014.
The business, formerly known as both Arek Jewelry and Namatags, has undergone many changes over the past few years.
"Early 2020 was when I shifted my style to Arek Jewelry [from Namatags]," Dockins said. "Arek Jewelry started right at the beginning of the pandemic. I was out of college and out of a job because of the pandemic. I started getting into purchasing premade pendants and putting pieces together, which is what a lot of people who sell jewelry do."
She met Ryan Kirby around this time, and they realized they could begin creating their jewelry entirely by hand.
"It almost felt like I was lying to clients because I wasn't making pieces from scratch," Dockins lamented. "Around December [2020], I started looking into how to make the pendants myself instead of buying them premade. People find that so much more interesting and really appreciate it a lot more when it's something that you put that much work into. It just feels way better to be able to produce that. It's not like those premade pendants where you can buy 50 and they all look exactly the same.
"We bought the most basic, cheapest materials at first to learn and practice," Dockins said. "Really it was all from YouTube and just various articles we could find online."
Over the course of the next few months, the pair began teaching themselves different aspects of jewelry-making, with Dockins focusing on the metalsmithing and Kirby focusing on the stones and lapidary work.
"I don't know of any people, even those we've tried to find on social media, that are going to both do the lapidary work and the silversmithing, having control from top to bottom of the creation process," Kirby said. "I feel like all the individual pieces are art. It's made with love; it's all cared for. It's not easy, but nothing worth being good at is easy."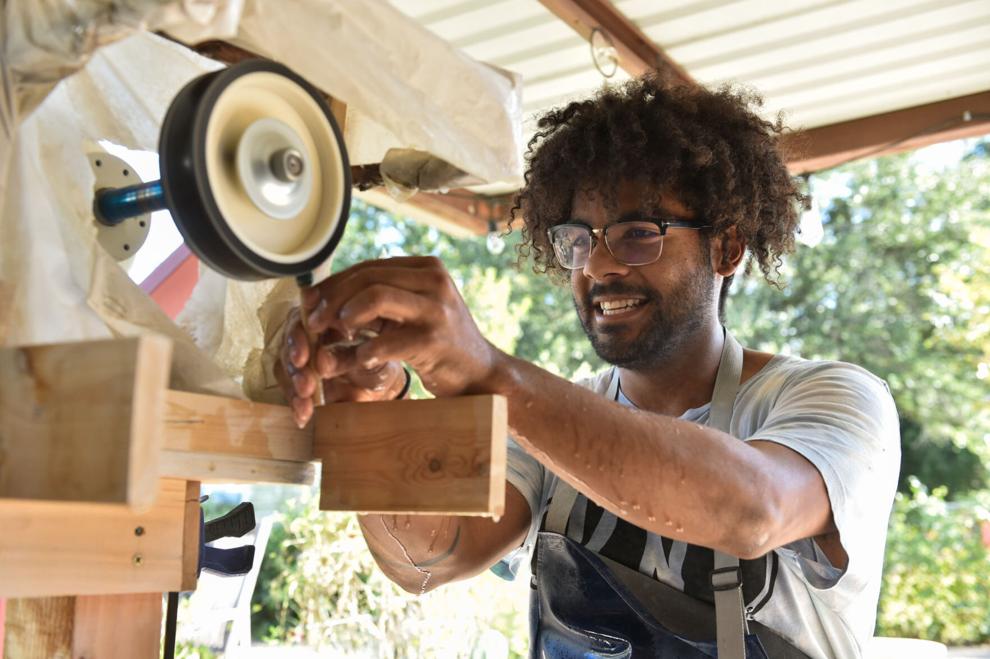 Kirby was introduced to Dockins' business around the time the pair met and became interested in helping Dockins with her business.
"If I can be someone who helps push her to achieve her dreams, because she's already helped push me to achieve mine, I want to do that," Kirby said. "It's a two-way road. If that's how I can help, and assist with the jewelry, that's what I want to do."
"Most couples don't work together. When people come home from work, it's like a separate personal family life at home, but I feel like it's another thing to have that and also share a business side of things," Dockins said. "Having that other level of being together and the business aspect too just opens up a whole other layer of communication that wouldn't even be there otherwise. If anything, it's brought us closer together."
The couple operate the business entirely from their home in Denton.
"We do pretty much everything on our back patio," Dockins said. "Using an open flame with fumes, that has to be done outside, which can be a struggle depending on the weather."
The couple also make use of a buffing machine to shape the stones for their jewelry.
"Within the next year, we want to get to the point where we can purchase a flat faceting machine, a flat lap, something we can use to make those classic emerald, ruby, diamond shapes," Kirby said. "Then we can do more precious gemstones with more traditional stone shapes and gem shapes."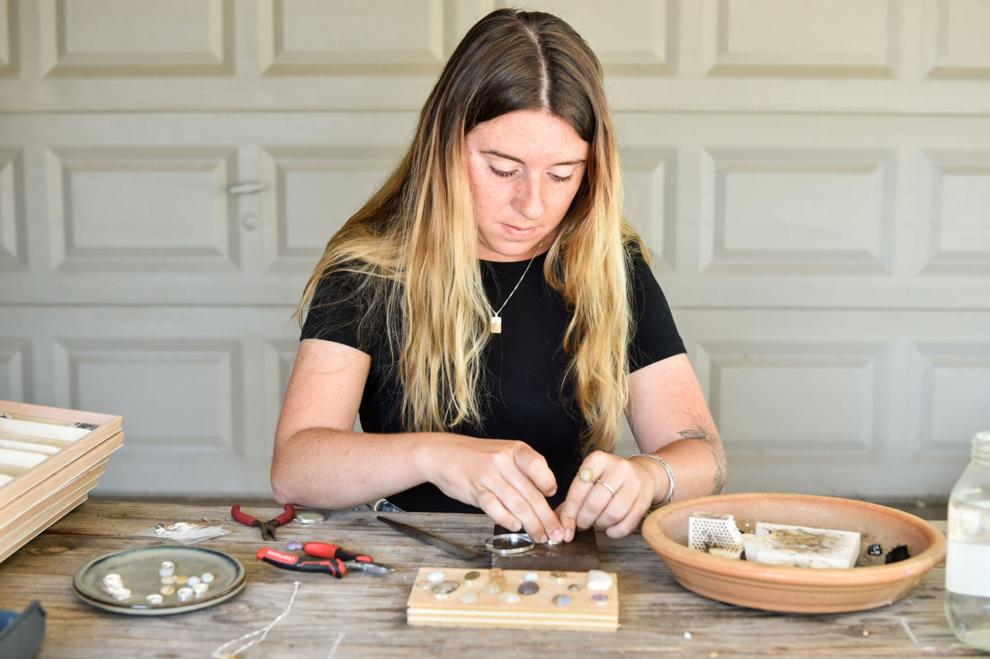 The pair currently operate the business part time, working around six hours on weekends and producing between one and three pieces a week. The pair both currently work different full-time jobs, Kirby as an electrician and Dockins at Meador's Garden Center & Landscaping
"The goal in the future is for this to essentially be the primary income source for us." Kirby said. "I mean, you could go out and work for another person, but why would we not want to work for ourselves? That's what we're trying to do. We've already proven that we can make great things together, and it's something we both care about."