Whether the thought of throwing an axes thrills or horrifies you, Brian Burrows wants you to at least give it a try.
Before customers at his business, Ironwood Axe Throwing, can try to hurl the dulled ax to a target, staff go through a safety training to calm people's nerves. After some coaching and feedback, people can get the axes to stick and gain confidence in about 10 to 15 minutes, he said.
The recreational outfit opened last week, the first in a string of businesses set to open on the west side of the new North Central Texas College downtown Denton building.
"It's definitely not 'come in, here's an ax and a target, go for it,'" Burrows said. "We're hands on, we take you through the process from any level, from never seeing an ax or doing a sport, to being competitive against your friends and throwing axes and having a great time."
The way it works is customers come in, and pay $25 a person for one hour and 15 minute session. This way, customers have a full hour once they're acclimated. For groups of 8 or more people, it cost $35 a person for a two-hour throwing session.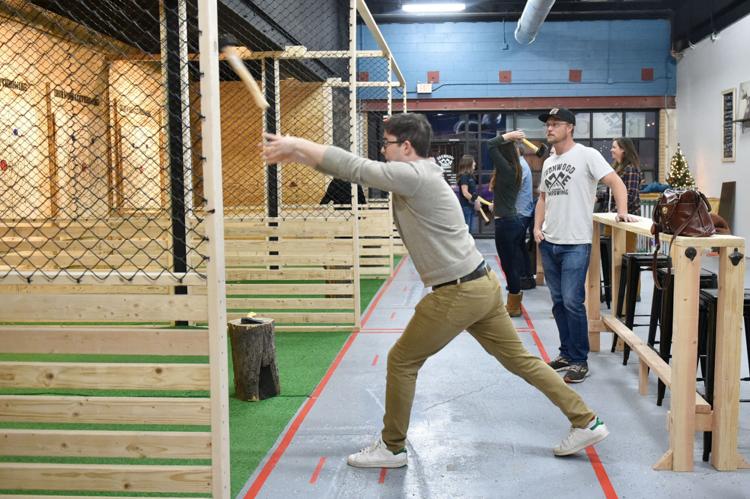 During a session, participants can play games like tic-tac-toe or corn hole or just throw the ax at the wall over and over. There's seating areas that are bar style to watch, or picnic tables toward the back for groups or any events.
The spot is also BYOB for beer and wine only, and Burrows said if customers can't walk a straight line they aren't allowed to throw axes. Safety is at the forefront of the business, he said.
Now that Ironwood is open, Burrows is introducing the first competition next week, with more to come. He's also adding ax throwing leagues in January, which will be connected to the World Axe Throwing League. This means scores will be recorded with the organization, and high performing teams will have a chance to compete in larger tournaments and events.
The storefront along Russell Street, which has an actual address of 314 E. Hickory St. #117, is now open Monday through Thursday from 2 to 9 p.m., Friday 3 p.m. to midnight, Saturday 10 a.m. to midnight and Sunday noon to 8 p.m.
"It's a ton of fun, people of all ages and all backgrounds can do this," Burrows said. "I would love for people to just come in and throw axes or even just watch. A lot of people are apprehensive, and if they're apprehensive or scared just come and check it out."