The Denton Drug Emporium hosted an indoor market Saturday, the first of what will be a weekly event where local vendors can sell their goods.
The market will run each Saturday from noon to 5 p.m. inside the Drug Emporium store on University Drive. The first installment featured only a few vendors, but manager Timothy Pickford said the store could fit 20 tables if enough interest was generated. Currently, at least eight vendors have expressed interest.
"It's just to give people an opportunity to be inside and give them a chance to sell their products in a controlled, peaceful and cool environment," Pickford said. "I wanted to give everybody a venue."
This weekend's participating vendors offered baked and canned foods, arts and crafts and natural deodorant. Many of the entrepreneurs say they'll use the market to help adapt their businesses to the COVID-19 outbreak, such as Stephanie Wood, a personal chef who has turned to selling her food because she can no longer enter clients' homes.
Wood has been in business for over four years, but the virus has forced her to alter her services. She sold banana bread, pickles and jams Saturday, her first experience at a market since making changes to her business.
"If things continue the way they are, I'm going to have to adapt," she said. "I'm slowly learning everything."
Similarly to Wood, Kimberley Dietrich previously taught paint parties to large groups of people for her business, The Art Shop. Now, she's selling arts and crafts while the shop's primary source of income is no longer viable. An accountant, Dietrich said she hopes the changes can give her business a presence as she waits for a return to normalcy.
"I was very excited when I heard about the market," she said. "I jumped on it."
Dietrich said she wasn't able to get into the Denton Community Market that takes place Saturdays on Mulberry Street, an issue Pickford cited as one of the reasons Drug Emporium is hosting its own. Due to social distancing and other virus prevention measures, the community market has been forced to accept fewer vendors, with those present feeling the sting of the virus as well.
Frankie's Fresh Foods owner Graciela Abbott said her produce and pickles business has struggled with shortages of sugar and vinegar. Based in Sunset, she said the Denton Community Market has been one of her main stops for years. Due to the pandemic, her business has pulled back on plans to expand its reach.
"We were going to focus on bigger festivals and events," Abbott said. "We've had to rethink that."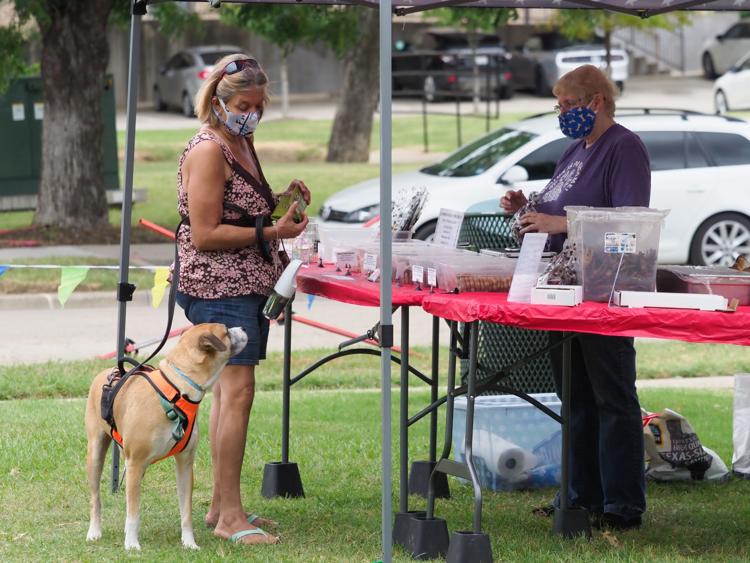 Denton-based pet treat business Susie's Scrumptious Snacks has been selling at the market for over 10 years. Baker and sales worker Cheryl McQueen said markets provide an important opportunity for growth.
"I know it's been tough for the market having less vendors," McQueen said. "We're glad it came back."