Denton County Brewing Co. was named the Small Business of the Year during the Denton Chamber of Commerce's first standalone Small Business Awards Luncheon on Thursday.
The awards ceremony typically takes place during the chamber's annual banquet, which was held virtually in September, said Shaina Thomas, the chamber's director of events and member services. But because this is the chamber's first year celebrating National Small Business Week — during the first week of June — the organization decided to move the awards ceremony.
DCBC owner Seth Morgan received a standing ovation as he approached the podium to take home the ceremony's most coveted honor. The Small Business of the Year Award goes to a chamber member and for-profit business that offers high-quality products or services, exhibits strong employee relations and demonstrates leadership in an industry, among other accomplishments.
Verus Commercial owner Greg Johnson, who introduced the award, acknowledged the brewery for its dedication to Denton and its efforts to help employees and local residents during the COVID-19 pandemic and the winter storm in February.
Morgan said passion for the community has always been at the heart of Denton County Brewing Co.
"When you start a business … you do it because you have a passion, you have something you want to follow, and you do it for your community," Morgan said during his acceptance speech. "It is about the beer, but it's not about the beer — we wanted to create something that would give back and share in what we do, and that's exactly what has happened."
LashUp BrowDown took home the New Business of the Year Award, which recognizes a business operating between one and three years that has gained a positive reputation, used innovation and grown. The Community Investment Award, which recognizes outstanding community service contributions such as special programs, partnerships and employee volunteerism, went to East Side Denton.
Other award winners included Best Western Premier Crown Chase Inn & Suites, which received the Family-Owned Business of the Year Award; Imagine Renovations, which took home the Minority-Owned Business of the Year Award; and Davanti Salon & Spa, which was named the Woman-Owned Business of the Year.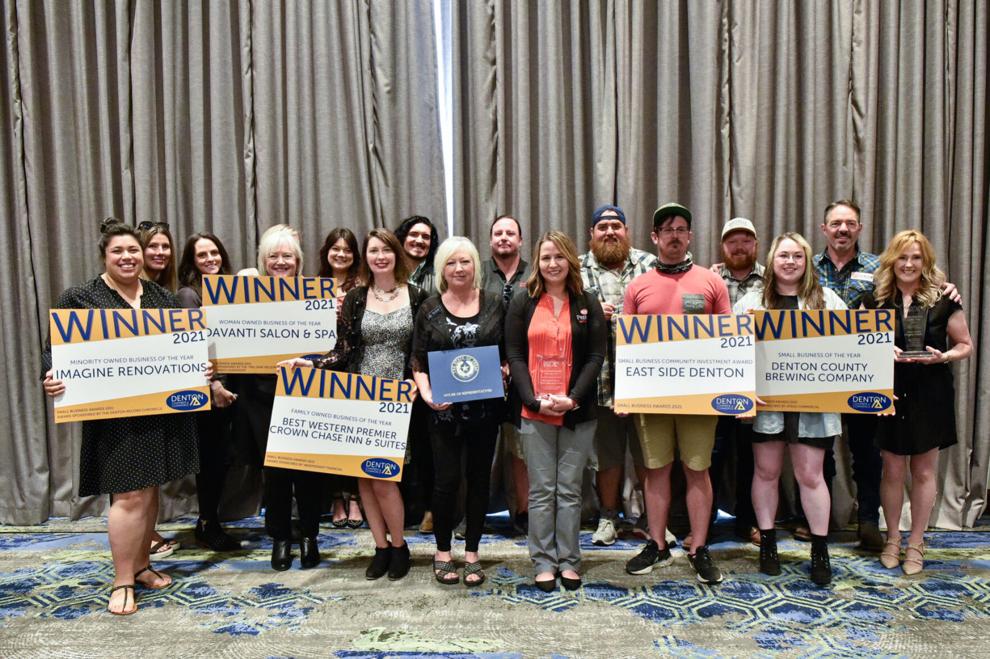 "A very wise person told me one time that if you take care of your business, the business will take care of you, and I believe that has happened today," Davanti owner and president Tracee Herring said during her acceptance speech.
Chilli Peña, who accepted Imagine's award on behalf of owners Isabel and Luis Gachuzo, encouraged those present to continue supporting minority-owned businesses to strengthen the community.
"This year our country has been rocked with racial turmoil, and an often-overlooked solution to the problems we face as minorities — there are many — is business, particularly small business," Peña said. "If we want more peace in the city of Denton, we need more minority-owned businesses, which means we need more patrons for minority-owned businesses. We at Imagine Renovations imagine and look forward to the day when minority-owned business and women-owned business isn't even a category for awards because the diversity reflected in not only the membership of this chamber but also in the leadership will make it so."
Nominations were accepted online for the awards, and a nominating committee made up of chamber members selected the final three nominees in each category ahead of Thursday's event.
The decision to celebrate small businesses this year was an easy one, Thomas said.
"We were supposed to actually do it in May of last year, but because of COVID we had to cancel that, unfortunately, so we wanted to do it this year," Thomas said. "We thought it was the perfect year to start this up because of how crazy last year was — our small businesses have been through so much."
Although the luncheon ended shortly after the Small Business of the Year award was announced, Morgan invited attendees to continue the party — hopefully for them, with drinks on the house.
"Congratulations to all of you who had the guts and the integrity and the moxie to open a business, especially in a tough time," Morgan said. "Thanks to everyone and the Chamber of Commerce. Afterwards, come over to Denton County Brewing Co. or East Side for a beer — let's celebrate."