As the fight for racial justice continues in the aftermath of the George Floyd killings, two of Denton's own have dedicated special brews to the cause.
Armadillo Ale Works and Denton County Brewing Company are two of more than a thousand breweries nationwide participating in the Black is Beautiful initiative, an advocacy project created by Marcus Baskerville, a San-Antonio based brewer and co-owner of Weathered Souls Brewing Company. The project invites breweries to put their own spin on Weathered Soul's imperial stout recipe to raise awareness about racial injustices and raise funds for police brutality reform and legal fees.
Participants in the Black is Beautiful movement are asked to donate 100% of their proceeds to local foundations that support police brutality reform and legal defenses, as well as commit to the long-term work of racial equality. Brewers can download the recipe for the stout base and create their own version for the cause.
Armadillo will sell 4-packs of 12-ounce cans of their mesquite-twisted brew created for the project to-go through their drive-thru Friday from 5-8 p.m. The brewery has partnered with Denton-based nonprofit Friends with Benefits to donate 100% of the proceeds to the Denton County chapter of the NAACP.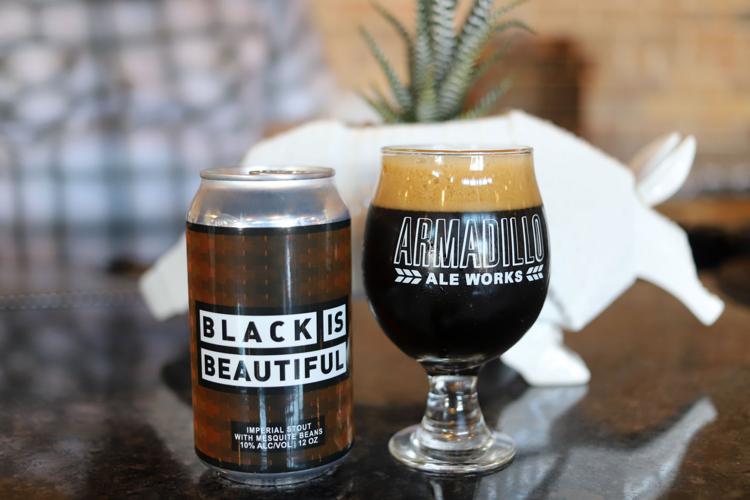 Denton County Brewing Company released their version of the brew Wednesday, which they are selling in single cans and 12-ounce four packs alongside their regular menu, events and marketing manager Madison Morgan said. The net proceeds from the beer sales will be donated to Faith in Texas, a multiracial nonpartisan movement aimed at promoting economic, social and racial justice.
DCBC brewers knew they wanted to get involved with the project when they heard about it, Morgan said.
"We think it's an incredible movement," Morgan said. "We love seeing, you know, a bunch of craft breweries all get together to commit to something that has a great cause behind it."
As for the beers, they are as distinctive as the uniquely Denton breweries themselves.
Mullins said mesquite is a key ingredient in one of Armadillo's most popular and award-winning brews, "Honey Please," so he and his brewers thought the flavors would pair well with the robust flavors of the 10% stout.
"The stout is big and roasty and full of chocolatey coffee notes, but then with the mesquite beans it kind of relays this nice honey, cinnamon spice characteristic to it," Mullins said. "The results are awesome."
Denton County Brewing Company's beer features an altered malt base and more dextrin for added body and more mouthfeel, Morgan said.
Willie Hudspeth, president of the Denton County NAACP, said he is excited to hear about the fundraiser. Outside of operating expenses, Hudspeth said the money the NAACP raises, along with proceeds from fundraisers like this one, go toward scholarships for local students.
"It's an honor to have recognition for what your organization is doing when it's positive," Hudspeth said. "I'm appreciative of any money we get, [but] I think the thing that really excited me is the awareness."
If the roughly 180 cases don't sell out Friday, Mullins said Armadillo will continue to offer it through their drive-thru tap room until it's gone. Staff will wear masks and sanitize between customers, as has been the brewery's practice during the pandemic, Mullins said.
DCBC plans to barrel-age some of the brew for re-release in the fall.
Mullins is hopeful the brew will sell out quickly so they can get what he said are much-needed funds to the NAACP's Denton chapter, but he hopes recognition of the cause will continue long after the last can is gone.
"The first step is acknowledging there's a problem and now we've got to figure out how to fix it," Mullins said. "I don't think it's going to happen overnight but the more people are aware, I think the more people are going to continue to work on fixing this issue and all the issues around it so we can get to a better place in this country and the world."