When Army veteran Kalita McKinney moved to Sanger in August of last year with her children, she noticed there were no dedicated coffee shops.
"I said, 'Lemme get a hot chai tea latte,' and I'm going to go on my way to Sam's Club, which is about 20 minutes away in Denton," McKinney said. "There was not any place in town, and I was like, 'How am I going to get what I need?'"
Last month, McKinney and her family opened the Jus A Cup coffeehouse, the first in Sanger, on Bolivar Street after about six months of paperwork, renovation and acquisition. Nearly a month since its soft and hard openings, business has been steady.
"Those first days were hard to anticipate," McKinney said. "People were trickling in, they were going to be like, 'What's going on?' There was so much anticipation. However, people were coming in nonstop."
McKinney attributes the shop's success to a mix of her daughter managing Jus A Cup's social media accounts and local support.
"Thanks to her, folks were excited to see this place grow," McKinney said. "This is a small place, and people use Facebook a lot. As [our] Facebook grew, so did the level of anticipation. I am leasing my space from one of the most prominent spaces in town; they were talking it up, and people who worked in this city knew what was up. When we opened [our] Facebook in May, that's when attention really started to grow."
Another source of support for Jus A Cup came from the local Black community, which McKinney called "awesome."
"Some of them have driven in from far past Frisco," McKinney said. "They've come to buy a drink they usually wouldn't try, people are buying other people virtual cups of coffee just show their support. The Black community has been very supportive and understanding that entrepreneurship in our culture has been very limited for us. It's time for us to be part of communities that bring economic development into towns and into America overall."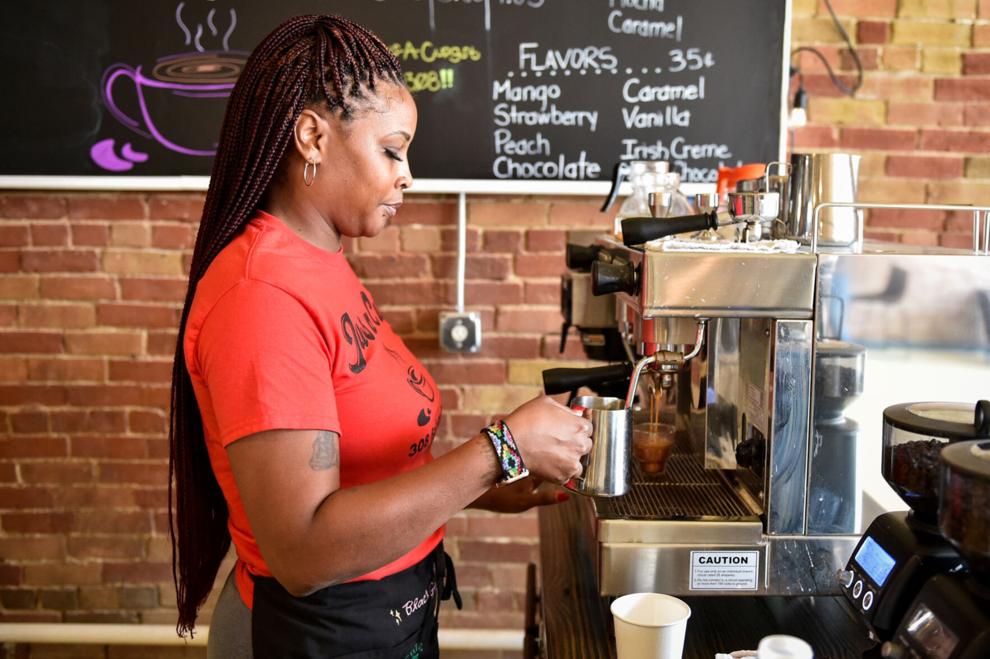 Jus A Cup's menu is kept simple by McKinney, who uses local Denton outfit New Slang to roast her coffee to make her in-house blend.
"I will say, I experimented with other blends, and I've had regulars come in say, 'This batch of coffee has been better in the last 10 days,'" McKinney said. "They've definitely taken to the Jus A Cup blend. Our coffee is not meant to have a whole lot of additives. It is not meant to be dressed up like a beauty pageant; it is a little bit of sweetener, a little bit of flavor, a little bit of milk. It is coffee for [customers] to enjoy."
One regular at Jus A Cup is Sanger resident Tasha Wallace, a consultant in risk management who moved to the town in March. Wallace said she became aware of Jus A Cup when she drove through downtown to familiarize herself with the town last month.
"I love it," Wallace said. "Starting from the outside and going in, [Kalita] has done a great job with the character of the space. She's kept a lot of the original historical value, and it's a new coffee house with great coffee, and the staff is amazing."
While the shop is owned by McKinney and her family, other Sanger locals are employed as baristas and managers, such as Evaline Reno, a shift supervisor who joined the shop on June 22, the shop's official opening.
"Kalita is the best boss," Reno said. "She is super respectable in a way because she will actually listen to our suggestions because it's everyone's business to be a success. We give her ideas, and she's understanding if you need to take a day off."
As for what the future holds for Jus A Cup, McKinney said the building would receive a facelift, and the shop would receive standing bars and more seating as business grows. There is also an ongoing collaboration with local store Bolivar Street Boutique where customers from one store can get discounts at the other. Additionally, McKinney said she plans to open a second location should the store continue to grow.
"I'm a very ambitious person," McKinney said. "I would definitely love to expand and have another Jus A Cup around, this time in another small town. Not too far and just kind of grow the brand, though I want to keep that hometown feeling."