What's in a name? For the owners of Bewitched Denton, the fulfillment of a longtime dream to bring their passion for healing arts to the Denton community.
When Fara and Kasey Francis-Eusea first met, they discovered they shared a desire to one day own a crystal shop. This weekend, after almost five years of marriage, that dream is becoming a reality.
Bewitched Denton, a new metaphysical shop, will officially open its doors Thursday ahead of its joint grand opening Saturday with Laser Loft. Laser Loft has been operating in Denton since 2017, but the medical spa's owner, Rhianna — Kasey's sister — wanted a larger space. At the same time, Fara and Kasey were hunting for a potential storefront for Bewitched, when both the couple and Rhianna found the building at 1629 N. Elm St. and decided to share the space, with Bewitched occupying the roughly 250-square-foot front retail space and Laser Loft utilizing the rooms for clients.
"My sister and I found it at the same time, and we both fell in love with it," Kasey said. "It's kind of like fulfilling a person's physical, spiritual and energetic self in one place."
For the Francis-Euseas, the timing has been nothing short of magical. Kasey found out a few months ago her job would be eliminated this week, as the energy company she worked for was filing bankruptcy. When the chance to share the space with Laser Loft came up, Kasey said it felt like the perfect opportunity. She plans to be at the shop daily while Fara continues her own full-time corporate job for now.
"We kind of want to move away from what we were doing before, and this is our passion," Kasey said. "I've been collecting rocks since I was a kid."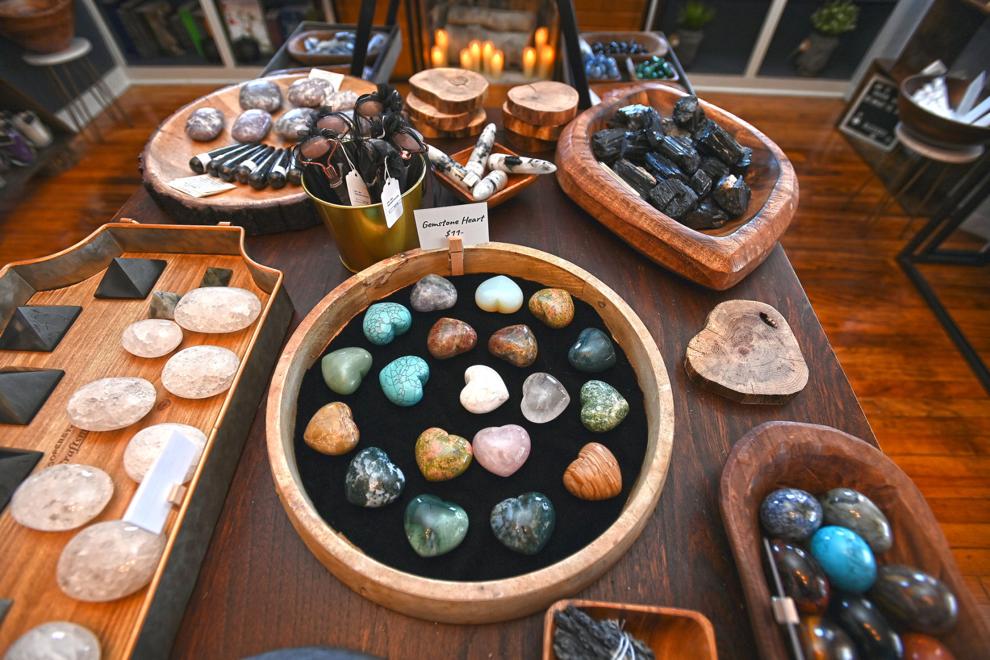 While Bewitched gives the couple the opportunity to devote more time to something they love, they say it also provides the chance to become more involved in the Denton community. Fara moved here in 1996 to study sociology at Texas Woman's University, while Kasey, originally from Denver, fell in love with the city after visiting. The pair explored Denton originals such as the Denton Community Market and the Dan's Silverleaf annual crawfish boil during her first weekend in the area.
Fara and Kasey say they've remained captivated by the city since, staying involved by helping fill tiny pantries around town, volunteering for local political candidates and doing activism work. Now, they say they are eager to share more of their passions with the community they love and help fill a void for bewitching wares in Denton.
"There are some beautiful gift shops in town that I love and we frequent a lot, but as far as the metaphysical side, when Voyager's Dream closed down, we didn't have anything," Fara said. "We've got a lot of good feedback from people online excited to have this in Denton."
The couple say they hope Denton residents will be equally as enchanted when they walk into Bewitched, a name inspired by Kasey's quarantine binge of the classic 1960s sitcom of the same name. The shop will offer a rotating inventory of hand-picked crystals, candles, jewelry and spiritual items from tarot cards to books. The Francis-Euseas say the crystals are ethically sourced and that much of the inventory is from women-owned boutiques and wholesalers. And just as they want their products to reflect the diversity of the creative community, they hope their shop can be a welcoming space to all, no matter their spiritual beliefs or identity — a vision shared by Laser Loft.
"We want everyone to feel welcome when they come in the shop — there are some places I think a lot of LGBTIA [people] can walk into a store and maybe they don't feel like that's their people, but we want everyone to know we're their people," Fara said.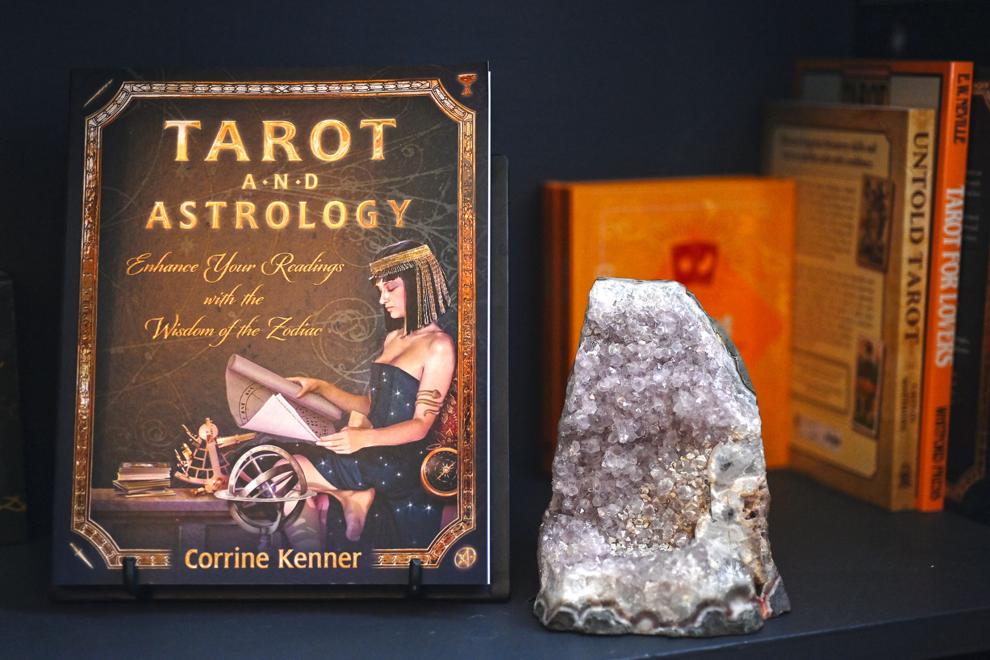 The metaphysical isn't rooted in any one religion, the couple say — devotees of all faiths, as well as the nonreligious, can incorporate crystals into their practice.
"Anyone can pick up a crystal and be delighted by it, and it might not have any religious meaning to them, other than 'I love it and it brings me joy,'" Fara said.
There are a lot of misconceptions about spiritual practices, the pair say, and they hope to play a role in dispelling those and meeting people where they are on their spiritual journeys by eventually hosting creative workshops on topics such as crystal grid-making and wand-making, bringing community tarot readers to the shop and hosting other events such as full-moon parties.
"There's a stigma around these words we're using, and we're hoping to kind of educate people who are like, 'What's that? It sounds dark,'" Kasey said. "It's really not — it's nature and nurture and connection."
The first step is getting locals excited about what Bewitched has to offer and, in conjunction with Laser Loft, the immersive experience customers can find at the space on Elm. Saturday's grand opening, from noon to 7 p.m., will feature a raffle, a spiritual medium for readings, sweet treats for visitors and a free gift with purchase. Though the two businesses operate independently, Bewitched plans to mostly hold the same hours as Laser Loft, although the shop will also be open Sundays and operate until 7 p.m. most days, while the spa closes at 6 p.m. on weekdays and 4 p.m. Saturdays.
Right now, the shop doesn't offer online orders because the Francis-Euseas say they want Bewitched to be a space that cultivates the personal connections that can be harder to find when shopping online — and one that's rooted in the community spirit of Denton.
"We've all been in quarantine for a year, and I really feel like it's time to get back out into the world — people are being vaccinated, and we need to start connecting again," Kasey said. "We're going to still require masks and social distance, but at least we can see our neighbors. We want to feel connected to our community — it just feels like it's time."