Following Gov. Greg Abbott's announcement last week that the statewide mask mandate and capacity limits on businesses will no longer be in effect beginning Wednesday, many Denton business owners say they will continue to enforce COVID-19 precautions on their own.
Executive Order GA-34, signed March 2 by Abbott, prevents local jurisdictions from enforcing mask-wearing in areas with hospital capacity for COVID-19 cases below 15%, but does "not preclude businesses or other establishments from requiring employees or customers to follow additional hygiene practices, including the wearing of a face covering." While a few area establishments have announced they won't enforce any COVID-19 restrictions beginning Wednesday, most business owners in Denton say they are committed to continuing the practices that have helped keep their customers and employees safe for months.
At Sweetwater Grill & Tavern, occupancy levels will remain around 75% to maintain social distancing. Restaurant staff will continue to wear masks and will ask customers to do the same, shift manager Harper Hadley said.
"We're going to stay exactly how we've been doing things," Hadley said. "Our owners and management think this is the right decision and is really going to help stop the spread of COVID. We've had our fair share of COVID cases with our work family here and just really want to make sure we keep that out of the restaurant."
Samuel Bruce, manager at More Fun Comics and Games, said staff also plan to continue asking customers to mask up. With such a small space, they will keep store capacity around 10 or 15 people until the rates of fully vaccinated people in Denton County, which were at about 8.7% as of March 8, go up.
"I think when we get 75% to 80% vaccination at the county level is when the owner is thinking of lifting things," Bruce said. "We've done a very good job so far of keeping staff and customers safe, and until we get enough people vaccinated, we still just don't feel comfortable opening things up all the way, and most of our customers seem happy about that."
Guidance for businesses across Denton and the state has been limited, with the Denton Chamber of Commerce last week encouraging businesses to act at their discretion but urging caution amid the risk of future restrictions if hospitalizations climb. The Denton Main Street Association is revising its online list of COVID-19 practices at area businesses as those establishments submit updated information, but as for guidance, business owners should turn to Denton County Public Health, Main Street Association executive director Christine Gossett said.
"We are actually updating that Support Local page for downtown-based businesses to submit updates to us regarding their mask requirements or other restrictions on their business operations, but the county health department has the best information for anyone who needs information on guidelines for the prevention of spreading it [COVID-19]," Gossett said.
Since submitting information to the Main Street Association for their Support Local page is voluntary, Gossett recommends customers check with businesses to find out what their policies are before visiting.
The Texas Association of Business and National Federation of Independent Business released statements March 2 praising Abbott's decision as a win for businesses across the state.
"It's important that individuals continue to take personal responsibility and follow CDC guidelines to keep healthy and prevent the deadly coronavirus from spreading, but today's announcement is a step in the right direction toward helping small businesses recover from the economic slump caused by the pandemic and to keep Texans working," the statement on NFIB's website reads.
Representatives from TAB and NFIB did not return calls from Denton Record-Chronicle staff Tuesday afternoon seeking clarification on guidance for businesses.
Still, many North Texas establishments have been posting their plans on social media since Abbott's announcement, with Facebook group Denton Downtowners featuring several threads asking businesses to let the public know whether they plan to enforce voluntary restrictions or not. On Twitter, announcements from two establishments near the University of North Texas — Crooked Crust on Avenue A and Fry Street Tavern — sparked strong reactions from locals.
"We're still gonna need y'all to wear mask[s] and if you have an issue, please file it to our complaints department," Crooked Crust tweeted March 2, with a picture of a trash can attached.
The tweet sparked an outpouring of support among Twitter users, but Fry Street Tavern's announcement in a since-deleted tweet that they would no longer enforce any COVID-19 restrictions solicited mostly negative feedback.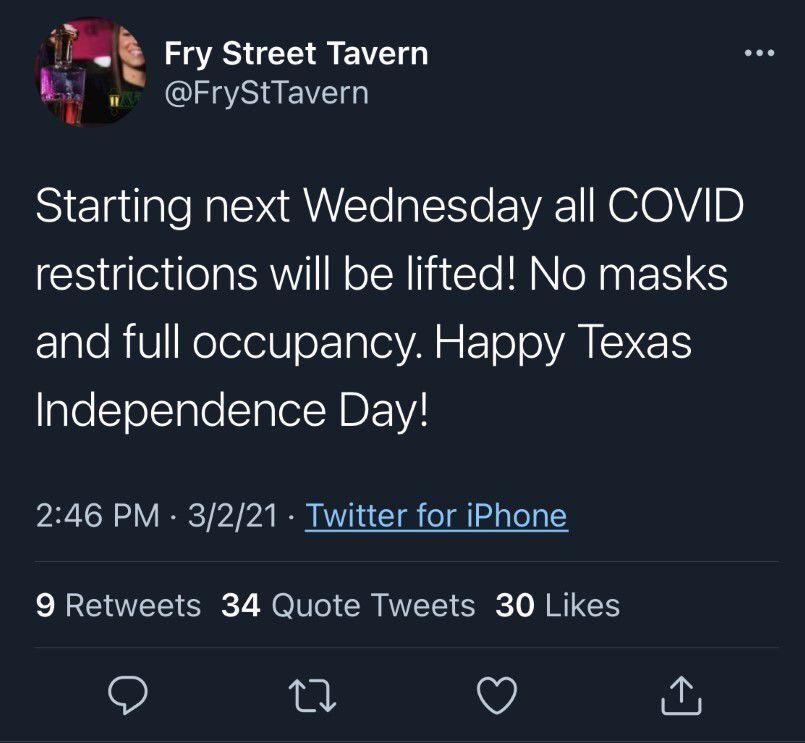 "Starting next Wednesday all COVID restrictions will be lifted! No masks and full occupancy. Happy Texas Independence Day!" the tweet read.
Fry Street Tavern could not be reached via phone for comment Monday or Tuesday afternoon.
David Jordan, owner of Patriot Sandwich Company, said at his sandwich shop, employees will continue to wear face coverings and provide hand sanitizer and masks at the shop's entrance, but wearing one will be optional for customers.
"We're following CDC guidelines, and I think we should still enforce the masks, but I know a lot of places are not going to push the issue because they are trying not to violate people's rights and liberties," Jordan said.
Since Patriot's maximum capacity is 38 people and most customers get their lunch orders to-go, capacity is not as much of a concern, but Jordan said he hopes to respect people's decisions while maintaining as safe an environment as possible.
"I think it's great that Governor Abbott is opening up and everything and allowing people to take the mask mandate down, but that doesn't mean we have to forget what's going on in the world," Jordan said. "If somebody walks in without a mask, according to Governor Abbott, they're allowed to walk around without masks, but if I start having people complaining about it, then, of course, we're going to reinforce it. But, you know, the goal for me is to not alienate any of my customers."
At Soma Massage Therapy, owner Amber Briggle said that while she also does not want to turn customers away, she will continue to do so for those that won't wear facial coverings. Soma has been enforcing masks since May — before there were any local or statewide mandates requiring them — since it's impossible to maintain social distancing with clients, Briggle said.
"We're going to follow what the CDC says as health care workers," Briggle said. "We haven't had a single COVID case transmitted here. The masks are working, so if they've kept my therapists safe and kept our clients safe, why would we roll those back?"
Though Briggle said she has received positive feedback since announcing her plans to continue COVID-19 precautions and believes most clients will continue to happily mask up, she said it's not easy to turn customers away as a small business impacted by the pandemic.
"What I'm not looking forward to is on the 10th when clients come in and say, 'Well, I don't have to wear masks anymore because the governor said I didn't have to,'" Briggle said. "I will always choose the health and safety of my clients and therapists over profit, but that doesn't make it easy when someone demands a refund on a big package [of sessions]. I bet a lot of small-business owners are going to be feeling the same things where it's like, how do we balance the health and safety of our customers and employees versus turning away this customer who's going to spend a ton of money on my business when we could really use financial assistance?"