Plumbers across North Texas have seen a record number of calls for service as homeowners and businesses deal with broken pipes and water leaks following the deep freeze Winter Storm Uri brought to the region last week. With repair crews and suppliers seeing unprecedented demand, many say it could be weeks or even months before weather-related repairs are complete.
David Boots, battalion chief and Denton Fire Department spokesperson, said the department has received somewhere between 500 and 1,000 calls about broken water lines since temperatures dropped.
"Everybody says unprecedented, but it really is — it's just on a level we've never seen before," Boots said.
Butch Malone, owner of K Malone Plumbing, said his three-truck crew has been working 16- to 18-hour days over the past week to keep up. Most breakages have come from older copper pipes, he said.
"Most people didn't have power to heat, and they didn't run water as much as they should have, and copper is really easy to swell and break," Malone said.
Adding to plumbers' woes have been repeated visits to the same properties as lines continued to thaw, revealing new leaks when water flow returned. Though Malone said he and his plumbers have finished most indoor leaks as of this week, they are focusing on outdoor repairs and waiting for supplies.
"It was a gangbuster for everybody to get parts to be able to fix everything, so that's our holdup now is we're having to wait on parts or new equipment in order to replace some of the equipment that just got destroyed," Malone said.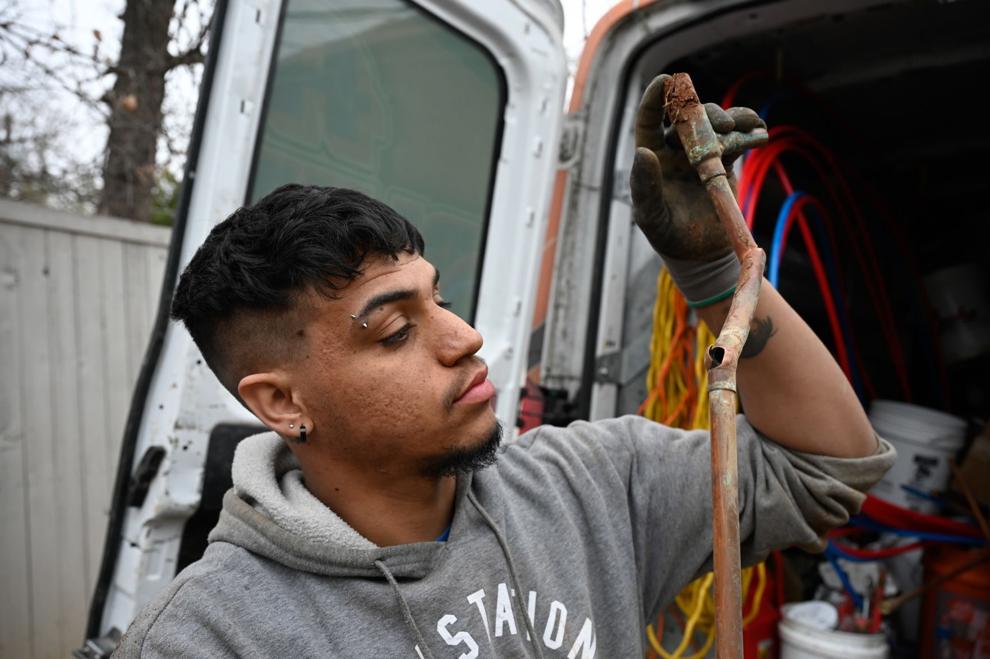 Ferguson Plumbing Supply has extended its Saturday hours to try to keep up with increased demand. At Moore Supply Co., staff has had trouble keeping copper fittings and tankless water heaters in stock as plumbers and homeowners scramble to find supplies, manager Tyler O'Quin said.
"I've never seen anything like this in my time here," said O'Quin, who has been manager for seven years.
Luis Lopez, co-owner of AM Plumbing, said he and his crew have worked 12 or 13 days without a break, focusing on restoring water to customers first. The biggest source of damage was the extended loss of power, which caused indoor temperatures to plummet, triggering everything from broken sprinkler heads to cracked water heaters, Lopez said.
While new calls about water incidents caused by the storm have slowed down, AM is facing a backlog of customers on a long list waiting for their homes to be serviced. Lopez said he expects to have those customers' water back on within the next two weeks, but with having to circle back for less urgent repairs and with tankless water heaters on backorder across the state, Lopez said it could be April before the effects of the storm are fully dealt with.
Even when plumbing issues are fixed, residual complications brought on by broken pipes such as electrical problems from leaks and systemwide water pressure issues could take even longer to address, Boots said.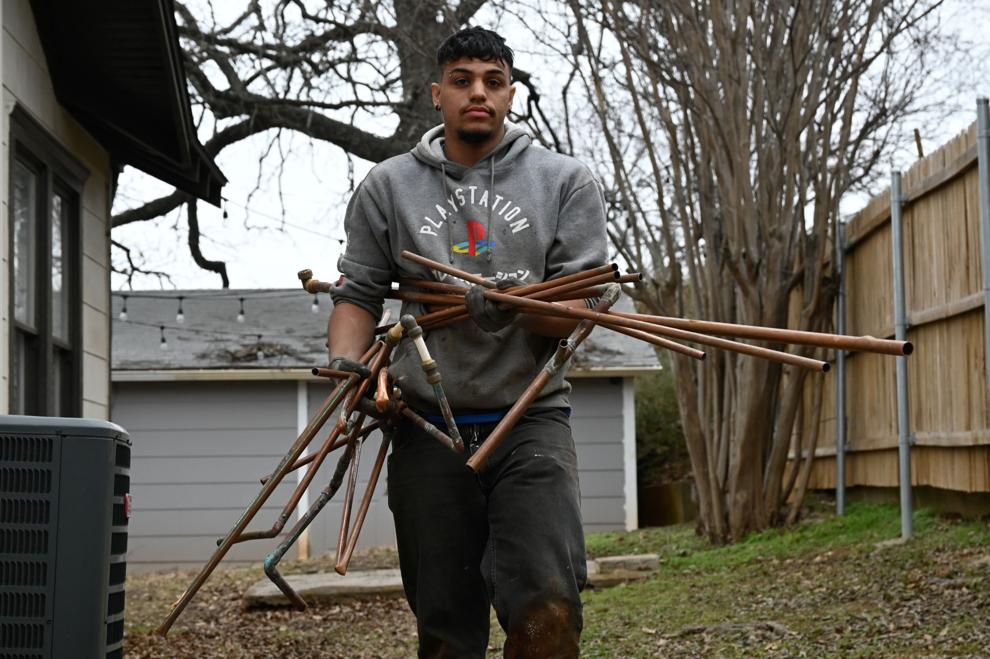 "It's just going to take a long time to get all the systems back up and running because there are so many 10s of thousands across the Metroplex that are down, and there's only so many companies that repair them," Boots said.
Gov. Greg Abbott waived certain regulations for plumber's apprentices Saturday, allowing those who have met all qualifications to become licensed but have not yet taken the certification test to perform repairs without direct supervision. Lopez has a few who fall under that category, and allowing them to go out on certain jobs has helped, but he said a statewide legislative effort to bring in plumbing materials from other states — as is the case with other supplies needed during the emergency — would be the biggest help for tackling much-needed restorations.
For now, plumbers are having to be creative, looking out of state for parts and making do.
"We're trying to just do the best we can and hope for the best," Malone said.